Army School of Physical Training Kakul Jobs 2023 GSO II Sanitary Worker : Pakistan Army is working on education good standard that is the reason Pakistan Army school students output for Pakistan is fruitful. Army School of Physical Training Kakul is offering different number of posts for well educated and well teaching experience peoples. Old advertisement Posts names are Subject Teacher for Middle Wing Male and Female, General Teacher for Junior and pre Wing Female only, PTI, Music and Art Teacher and office clerk.  Current January 2023 posts names are Sanitary worker Applicants will submit their jobs application form for Army School Jobs 2023 under the instruction of Pakistan army school Kakul.
Organization name:
Army School of Physical Training Kakul
Job type:
Government jobs
Posts name:
Sanitary Worker Female only
Old Posts Eligibility Criteria Advertisement December 2023:
Subject Teachers jobs for English subject —- Master in English with 1st Division with 2 years experience
General Teacher For Junior and Pre Wing for Math, English, Social Studies, Urdu, Science —- MA/ MSC/ B.Sc 1st Division with 2 years teaching experience
PTI Physical Education PT and Sports — MA Physical education BS/B.SC with 2nd division with 2 year teaching experience and PT course, sport coaching course
Music and Art Teacher Education BA/BSC/FA/FSC with 1st division along with relevant field experience
Officer Clerk education requirements is BA/BSC/FA/FSC in 1st division along with 2 years admin or officer work experience
Current post Eligibility Criteria for January month 2023:
Relevant field experience
Last Date for Application form submission:
16 January 2023 is last date of application form submission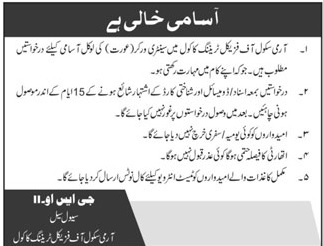 How to Submission application form?
Prepare your CV along with two recent photos — CNIC , Degree, Domicile attested copies along with Bank application form submission fee in the name of HBL Kakul Branch Postal Order for application processing for Army School of Physical Training Kakul  Jobs 2023 Sanitary worker jobs. See advertisement for more details in Urdu language.