Eid Ul Adha ARY Cattle Farm Qurbani 2023 booking rate Sahulat Bazar is offering affordable rates for buying a cow, or a goat or sharing. The biggest channel of the Pakistan ARY has now designed a market point where you can buy online Qurbani while sitting at home. We are sharing the ARY cattle farm location in Karachi, Lahore, and Rawalpindi along with the contact number. I will write the procedure about how you can place an order to book your animal as your decided token number. This year due to the pandemic of the Coronavirus the health department is suggesting all to stay at home and don't go in rushy areas. And animal markets during Eid shopping either they are cloths or animal people are making a rush at points. So you must take care of yourself and use ARY Sahulat Bazar to buy your Qurbani sitting at home.
ARY Cattle Farm Qurbani 2023 Booking Rate Sahulat Bazar
Now you can buy a cow, goat, or you can also put your share in any one of these animals. We are sharing the ARY Cattle Farm Qurbani 2023 booking rate Sahulat Bazar rates and procedure to book your order. You all have to read out this page completely and show your interest by clicking on the official booking button given below.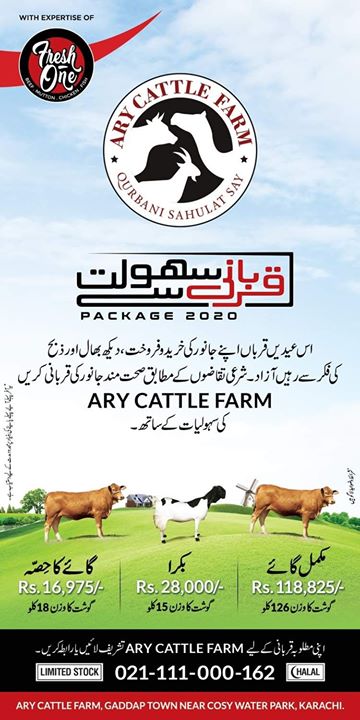 Locations:
ARY cattle farm Qurbani Sahulat Bazar locations are providing services in the following locations
Satani chowk Al Momin society GADAP TOWN NEAR COSY WATER PARK، Gadap Town, Karachi, Karachi City, Sindh
ARY Cattle Farm In Rawalpindi Islamabad (Online Booking)
ARY Cattle Farm In Lahore (Online Booking)
Contact Number:
(021)-111-000-162
(WhatsApp No.) 0333-1666981
Why ARY Cattle Farm Qurbani Sahulat Bazar?
Well, it's a very common question that comes to anyone's mind about whey ARY cattle farm Qurbani Sahulat Bazar? As there are different other channels are also delivering their services in Pakistan. So you are informed that the ARY team has designed a pure and transparent method of booking your animal.
Book your animal by watching its picture that shows the color, size measurements, and weight of that animal
The animal must be vaccinated and safe from any type of virus
Your animal will be chosen randomly but the decided weight and size will be as same as they have told you
They will provide the facility of Zabiha (Kasai)
ARY Cattle Farm Qurbani team will deliver your animal at your doorstep
If the delivered animal is not meeting the decided proportions you can return without paying any rupee
[button color="blue" size="big" link="httpss://www.arysahulatbazar.pk/qurbani2020″ icon="" target="true"]Click Here For ARY Sahulat Bazar[/button]
So these are the confirmed details about ARY Cattle Farm Qurbani 2023 Booking Rate Sahulat Bazar rates and price list for either buying your own Qurbani or putting a share in Cow's Qurbani. Share comments below about this company for the update purpose of others who want to deal with ARY animal farm Sahulat Bazar online.