Block Stolen Mobile Online in Pakistan by IMEI Number HTC iPhone Samsung QMobile:Â  Stolen mobile is common problem for Pakistan different cities people included Karachi city. Punjab, Sindh citizen are big victims of Stolen mobile robbery because this is the easy earning way for all boys those want to earn money within one night. In Pakistan Lahore and Karachi city Mobile market large number of mobile dealers is available those are running stolen mobile sale and purchase business. PTA Pakistan Telecommunication authority offers different ways for Block Stolen Mobile Online In Pakistan through IEMI number well further all short explain brief will express all method about how to Block your stolen mobile within few minutes.
Block Stolen Mobile Online In Pakistan By IMEI Number HTC iPhone Samsung QMobile
First Step after Stolen Mobile incident
After this incident must registered your mobile stolen incident complain in Near Police station, Police helpline number is 15 just dial this number for complain registration.
Block Stolen Mobile Online In Pakistan
Gen R Shahzada Alam Malik who is chairman of PTA announce through Toll free number and help of IMEI number stolen mobile will block and after this method that stolen mobile will useless for any person. This is good step by PTA because Stolen Mobile will block and easily convert in Useless then ratio of Stolen mobile victims will decrease.
Dial *#06# number through your mobile after mobile purchasing and through this code IEMI number will show on your screen, just note down that number and after unfortunate stlen mobile incident dial 0800-25625 and block your mobile.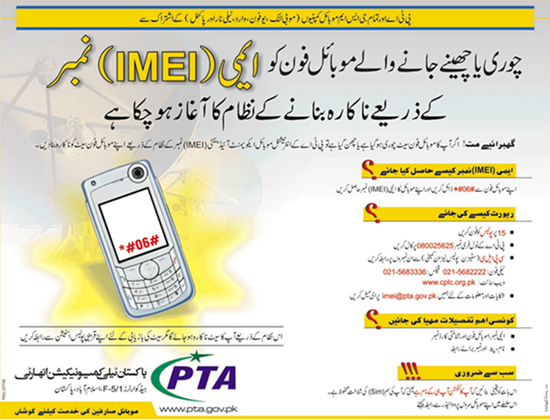 —————————