In this article, we give the procedure of How To Check Vote By SMS In Pakistan Online 2023. It is hard for people to find their names voter so the government introduced this method they help people who can check their vote easily. In Pakistan election commission is the authority for Election related facilities. This is a fact these days Election commission of Pakistan is providing the best facilities for Pakistan nationals through manual and online systems. A few years ago if you want to check your vote status within Pakistan then yes you have to need to visit the Election commission of Pakistan district office near your area.
How To Check Vote By SMS In Pakistan
Online Vote Check Through Sms:
The Election Commission of Pakistan is giving a very easy method for Vote Check online by SMS. You will type your CNIC number on New SMS and send it to the 8300 number. After this, you will receive a message from the Election commission of Pakistan. After this, you will get your name, address, Vote registration number, and area for registration.
How Can I Transfer My Vote Online In Pakistan:
If you want to transfer your vote to another city if you are living in your current place permanently. Then you can download the form from the ECP website and fill it and submit it to the DEC office along with the application and CNIC copy. Your vote is a very important key to Pakistan's future.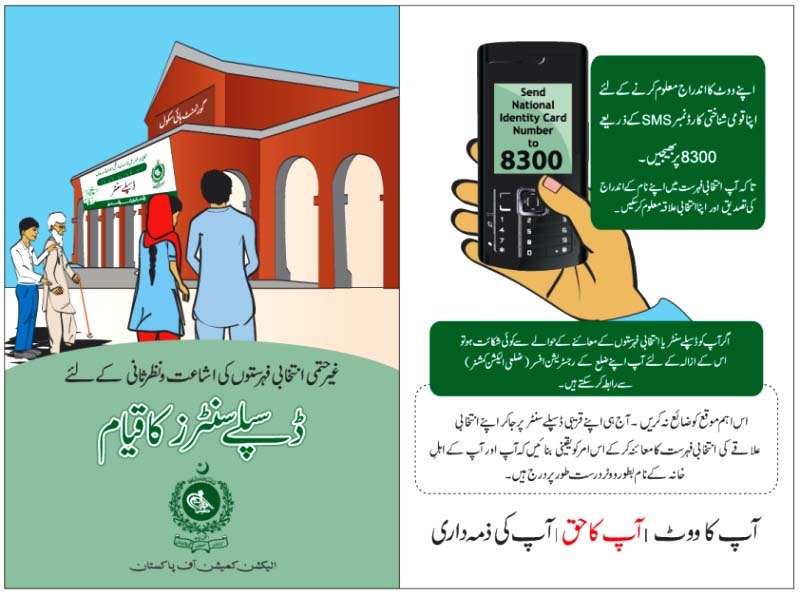 If you will select the right person for Legislation then Pakistan will get good conditions in different sectors including health, food, import, export, defiance, and economical condition. If you are facing any issues regarding How To Check Vote By SMS In Pakistan Election Commission Of Pakistan Voter List then drops your comment in the following box.
The Election Commission of Pakistan is giving different display centers in Pakistan all districts so you can also get Vote related query solutions through these Election Commission Display centers. Technology is changing our government department's working methods. This is a reality through the technology Election commission of Pakistan almost all services are available on your finger with the help of the Internet.