Now Pakistani students can apply for Daad Scholarship 2023 Germany application form last date requirement is written on this page. The purpose of daad scholarships in Pakistan is to select eligible candidates to study postgraduate and MS programs in Germany. If you are also among those candidates who are seeking to apply for this studentship then stay on this page and keep on reading. We are discussing the eligibility criteria, how to apply, the benefits, courses, and duration of this program. You must have to keep in your mind that only eligible candidates will be entertained to apply as per the following genre that is set officially. Continue reading and scroll down this page to get further details which are very necessary for the student to read before applying.
DAAD scholarship for Pakistani students is selecting students to study in Germany. This scholarship is offered all over the world without any deficiency among nations, color, political issues among countries, etc. Anyone can apply after just meeting the basic requirements. Never get disappointed in availing of this opportunity to study in Germany through the DAAD scholarship in Pakistan 2023. Continue reading this page and get the latest information which is very mandatory for the students.
DAAD Scholarship 2023 Application Form

Pakistani students are invited to study postgraduate and Ph.D. in Germany through the DAAD scholarship. If you also have done a master's of sixteen years of education then you have a good option to study postgraduate in Germany. Complete eligibility criteria and application procedure is written on this page below. Just keep on reading to get these details which are very important.
Daad Scholarship 2023 Deadline
Daad Scholarship yet not declared the last date for application submission but in the month of December, they will close the process. Further, if they update any new info about scholarships then we will update to the audience.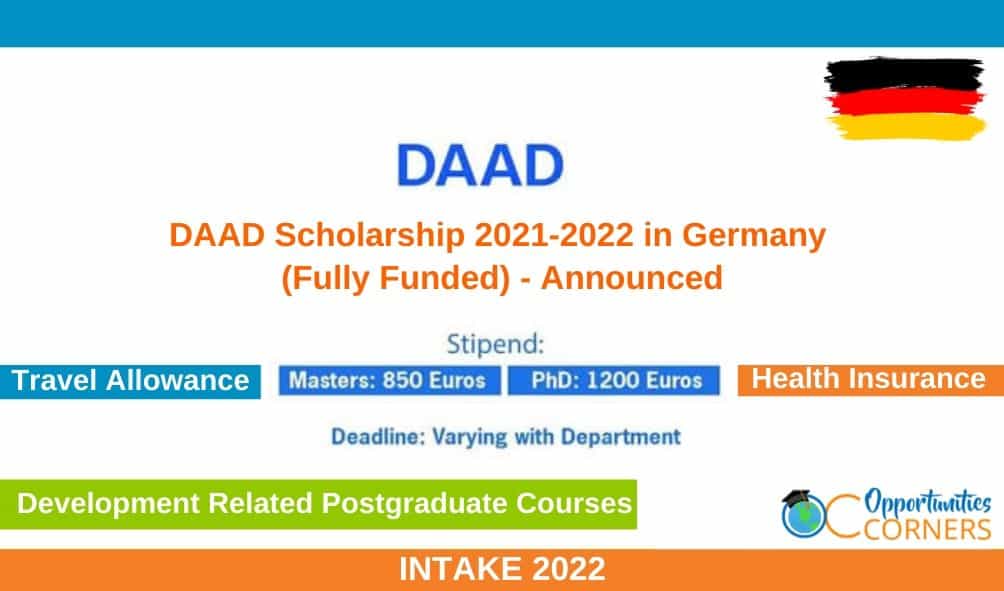 Who Can Apply?
The complete eligibility criteria for the Daad scholarship in Pakistan 2023 are written on the page below. You have to meet these eligibilities which are very important and necessary for the students to fulfill.
Pakistani male and female students who have done four years of BS four years and two years of master's degree i.e. sixteen years of education
Students are also having two years of working experience in the relevant course of work
The degree completion duration must not be more than 6 years
Pakistani students will have to attempt a German training program B1 for 6 months
Students have done IELT-6, TOEFL 550-paper based 213-computer based 80 internet-based
Courses Faculties to Apply DAAD Scholarship:
Students can apply for the following courses faculties to apply in Daad scholarship courses
Politics
Development cooperation
Mathematics
Medicine
Public health
Social science
Law
Engineering
Media studies
Benefits of Daad Scholarship:
If you have been selected for the DAAD scholarship you will be benefited through the following benefits. Such as you can obtain the details regarding the monthly 850, 000 euro monthly for masters programs. While those who are seeking admission to the Ph.D. programs will be granted a sum of 1.200, 00 euro monthly. While the company will grant 230, 00 EUR monthly for research allowance. Besides this, insurance and traveling allowance will also be granted to the students.
Duration of Scholarship:
The duration of this scholarship is one year to three years of duration depending upon the institute and course work you are going to study. For this, you can go through the host institutes listed below.
Host Institutes:
Gottingen University
HTW Berlin E,
Leipzig University
RU Bochum
HS Rhein-Waal
TU Darmstadt
Oldenburg University
HFT Stuttgart
Stuttgart
BHU Weimar
TU Kaiserslautern
TU Berlin
Dortmund E
How To Apply:
If you are meeting the above eligibility then you have to perform the following procedure to apply online for the DAAD scholarship Germany application form. Remember that you will have to submit the form before the last date and never get late from the last date of submission of the form.
Click on the following link to apply for an online Daad scholarship
Fill up the form completely by choosing your country as Pakistan
After that you have self-registered you will receive an email in your inbox
Find the Email in your provided mailing address and set username and password
Scan your documents and upload them before finally submitting the form
Required Documents
CV
Letter of Motivation consisting of two pages
Letter of recommendation from the employer
Academic transcripts verified by the HEC Pakistan
IELTS/ TOEFL proficiency certificate
German language course certificate
Academic degrees attested
I have discussed all the details about the DAAD Scholarship 2023 Germany application form's last date requirement. For taking further information you can click here. While you can also send your comment in the following commenting section. As soon as the officials announced any further details they will be delivered to this page and will be uploaded on this page. But never miss this chance to avail yourself of this studentship opportunity.