We are sharing Eid Ul Azha Bakra Mandi in Lahore 2023 cow, goat price ideas. In Pakistan different Bakra Mandi (Goat Bazar) is popular for Cow and Bakra selling and purchasing. According to sources, Shahpur Kanjra Lahore Bakra Mandi is a very popular place for Qurbani purchasing. If you want to Purchase Cow, Bakra or other animals like Dunba, chatra, or other like bail Wacha Katta then yes you can easily visit Shahpur Kanjra Mandi. Besides this Bazar, there are so many bazaars that are also selling animals like these days a new big bakra mandi in Lahore near Harbans Pura (Quaid e Azam interchange) is also in work. Further reading this page will provide you better ideas or you can also share your ideas in the following commenting box.
Eid Ul Azha Bakra Mandi In Lahore 2023 Cow, Goat Price Ideas
There are different Eid Ul Azha Bakra mandi in Lahore 2023 that have legally placed on different locations. The biggest cow bazar in lahore is Shahpur Kanjan while the second one biggest mandi is at Quaid e Azam interchange near ring road, third one biggest bakra mandi is located at Shahdra road near Ravi river bridge. Besides these mandis there are different small and big points where the animal sellers are selling their animals and you can go out there to buy.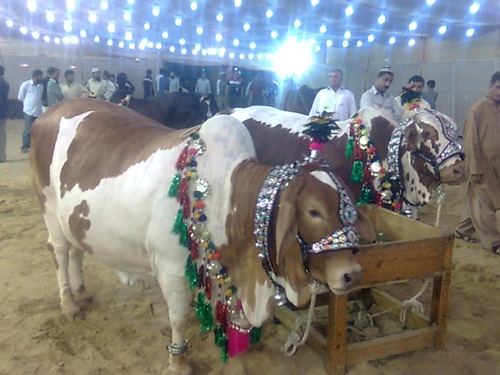 Cow price:
If you want to purchase Cow for Qurbani then 55 KG cow price starts from 55 to 70K. If you want to purchase 3 to 4 Maan Cow then 70k to 90k price is available for the purchaser in Shahpur Kanjra Lahore Bakra Mandi.
Goat, Dumba, Chatra Price in Lahore Mandi:
Goat 40 KG price is 40k to 65 thousand
Goat 50KG price is 50 to 75 thousands
Chatra price 25KG 18 to 20K
Chatra Price for 45KG is 40K
Dumba Turki 45K
Dumba age 6 months 25K to 30K
Camel price in Eid Ul Azha Bakra Mandi In Lahore 2023:
Camel price is starting from 90K to 120K
In Pakistan, different Eid Ul Azha Bakra Mandi names are very famous for purchasers. You will visit Lahore shahpur Kanjra, Sheikhupura Modern Mandi, Sahiwal Mandi, Madrisa Mandi, and Multan Mandi. If you have a place in your house then purchase Eid Ul Azha Qurbani after Eid Ul Fitr. This is a reality two months is enough for any Qurbani preparation. You will give a healthy diet for your Barka or other Qurbani.