Fully and partially funded Esaar Scholarship 2023 Casht Rawalpindi form apply online last date is written in the advertisement. Center of Advanced Studies in Health and Technology (CASHT) is offering scholarships for eligible candidates. Selected students will get financial support from 3 lakh up to 20 lakh. This support will be delivered in equally parted installments. These installments will be divided as per the semester fees and other educational expenses a student face during the whole course of studies.
If you are also among those who are willing for this program then just keep on reading this article and respond within the due date and time otherwise in case of anyone who will not meet the eligibility or apply after the last date will be rejected though he is eligible.
Esaar Scholarship 2023 Casht Rawalpindi Form
You are studying at the Center of Advances Studies in Health and Technology for undergraduate programs. CASHT is inviting application forms for Esaar CASHT Scholarship programs. If you are also among eligible students then never miss your application form to apply before the last date 16 November 2023. Further information is written on this page below. Just keep on reading this article to get further details which are very important for you to read.
Esaar Scholarship 2023 Last Date
The last date of Esaar Scholarship 2023 has yet not been issued and all those candidates who are going to apply now can send their application forms before the last date.
Studies Programs:
BS Human Nutrition and Dietetics
BS Biotechnology
DPT Doctor of Physical Therapy
BS-MLT Medical Lab Technology
BS-RIT Radiology and Imaging Tech
BSCS
BSc Engineering Technology
Esaar Scholarship Eligibility Criteria:
The Essar Scholarship eligibility criteria are set by the CASHT admission 2023 programs. You must read and make sure you are meeting these standards as written below.
Those who are newly taking admission to CASHT
Aspirants must meet the GCU Faisalabad admission eligibility
One who can prove his interest in the relevant program
The candidate will do one year job in CASHT industry partners hostel, laboratory, diagnostic center, or company
In case of anyone who will leave the degree before completion will be liable to pay the CASHT scholarship amount he or she has taken till the date

How to Apply Online?
If you are meeting the above eligibility criteria then you are ready to apply for Esaar Scholarship 2023 Casht Rawalpindi. I am writing the complete procedure downside which you can read online as per the following details which are necessary for all of you to get read.
Click on the apply online Esaar Scholarship CASHT
Fill up the form thereby entering the correct and relevant information
Officials will analyze each application form and call for the interview
At the time of the interview, your original documents will be verified
List of selected candidates will be listed online or on their notice board
Last Date November 2023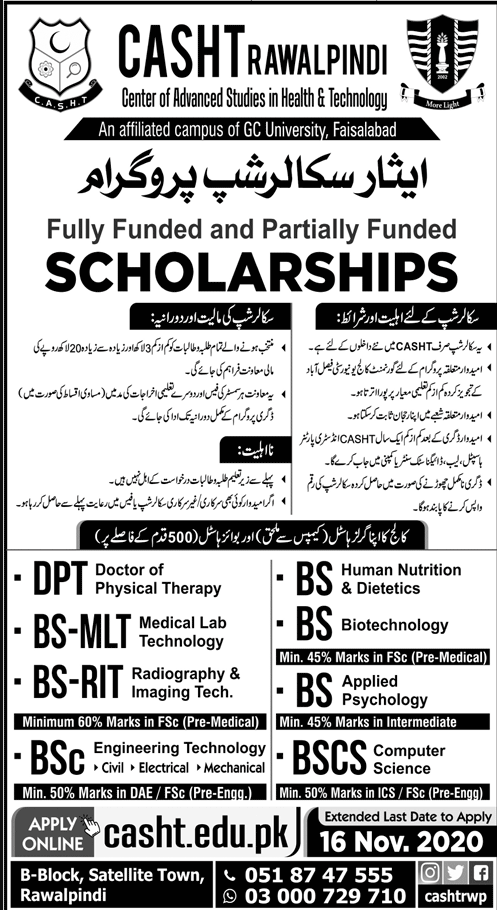 Yet I have discussed all information about Esaar scholarship 2023 CASHT Rawalpindi form apply online last date. I hope you are all now well aware of this information and ready to apply for it. In case of taking any further information or data, you can stay in tune with this page. For asking any question regarding what you are finding online you must leave comments in the following commenting section.
Center of Advances Studies in Health and Technology CASHT is an affiliated campus of Government College University GCU Faisalabad. Every year it offers Esaar CASHT Scholarship Program for undergraduate students who are going to get enrolled at the CASHT. The concerned authorities have specially designed this scholarship for those who are good at studies but do have not enough resources to meet their educational expenses. This program will fully provide support to you to meet the study's expenses and other benefits to support studies.