Here we are sharing very important details regarding FPSC Tracking ID 2023 online application form download. Federal public service commission is offering different jobs on different time periods under the requirement need. Government jobs are very demanding in Pakistan because all Pakistan nationals want to apply in FPSC government jobs. If you are searching Federal public service commission jobs then yes! our website is ready for job advertisement sharing. The application form procedure is online with the help of its official website. And when you will fill online application form then you will see FPSC Tracking ID 2023 on which you can track your application form. By tracking your request you can access the further details of your hirings. Such as you can download the roll number slip, test date, and location details.
You will edit your request form with the help of this online FPSC tracking ID recovery system 2023. So just keep on reading this article and stay in tune with this page. It will be the best option by officials for all of you to get the latest updates for full support till your hirings on the post you have applied on. Continue reading and scroll down this page to get more about this position.
FPSC Tracking ID 2023 Online Application
The online system by the Federal Public Serice Commission FPSC tracking ID online application form is used for the recovery of the candidate's further information. You can access this system to approach the editing of your application. The applicant will be able to download the roll number as well as the further updates released by the officials for this job post.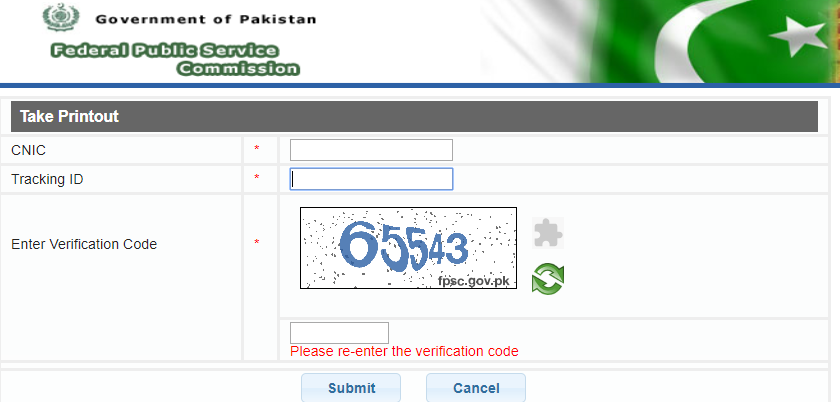 FPSC Tracking ID Recovery 2023
If you have put any information wrong and now you want to edit it, then the option for FPSC tracking ID recovery is providing you the best option for it. You can edit your application form, add more details, as well as the official's details which are required to recover.
Click on the link button below
Now you will enter CNIC number
After this, you will enter the Verification Code ( This code will show your screen in blue color)
After this, you will click on the Submit button
[button color="blue" size="medium" link="https://online.fpsc.gov.pk/fpsc/gr/application_track.php" icon="" target="true"]FPSC Tracking ID[/button]
This method will complete the FPSC Tracking ID 2023 Online Application. Now after this method you will see your FPSC jobs online application form for edit or any further require the procedure. This is a simple and very easy procedure for FPSC online tracking system. Now if you have any questions about FPSC Tracking ID recovery then yes you will drop your comment in the comment box.