Apply online for GC University Lahore MBA Admission 2023 form the last date of submission and eligibility criteria is written here. If you have done your graduations in the relevant fled like B.Com, BBA, or any other coursework then here is the best chance for you to continue your coursework in the relevant field ahead. As we all are well familiar with the worth value of GC University Lahore. Its merit, criteria, and all the details are very tough to meet the competition for the students. The teaching faculty and the decorum of studies the concerned authorities have arranged are well mannered and well equated.
That is why every year they are producing highly trained graduates in the market to hold the job place. So if you are also intending to apply to GC University Lahore admission in Masters of Business Administration then continue reading this article.
GC University Lahore MBA Admission 2023 Apply Online Form Last Date
Government College GC University Lahore MBA admission 2023 is open for eligible candidates. You will have to apply online and follow the date schedule and the terms of conditions that are necessary for it. Further details are written on this page which falls on the scroll of this page.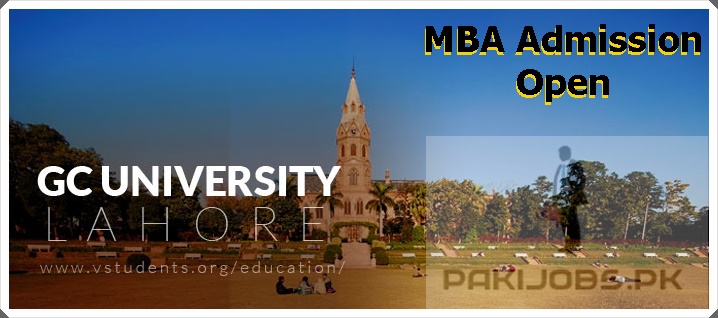 Offered Program Details:
Masters of Business Administration (MBA) 2 years postgraduate program. Officials have designed small size and personalized mentoring environment that will lead students within the best further categories. Further about the students are being facilitated by the internationally qualified and experienced faculty.
MBA 2 years program
Last Date To Apply: 25 September 2023
Entry Test Date: 26 September 2023
GC University Lahore MBA Eligibility:
It is necessary for the students to meet the eligibility criteria below. In case of any student who will not full fill the admission criteria will not be entertained by this intake. To meet the following standards…
A student must have done 4 years bachelor's degree program i.e. B.Com/ BBA/ or any equivalent degree
It is necessary to chase a minimum 50% marks in the semester system or 2.3 CGPA
Job professionals or those who are having work experience will gain more preference
It is also necessary to pass the GMAT and GMAT test
Passing candidates in this test will be called for GC designed panel interview
How to Apply For GCU Lahore MBA Admission?
If you are meeting the above eligibility criteria then you can ready to apply for GCU Lahore MBA admission 2023. All the procedures these days are online due to the COVID risk. All you have to do is to perform the following step by step methods.
Click on the following link to apply
Fill up the registration form and get the test latter (admit card)
In this card, you will see the date and time for attempting the GMAT test
If you will pass this test your name will be listed to the merit list
All the merit meeting students will be called for the GCU Lahore MBA admission 2023 well designed panel
[button color="blue" size="medium" link="httpss://forms.office.com/Pages/ResponsePage.aspx?id=bAnfdXKL5Eibkcv3nYfuOoZwtfDtk-xJgv2kr-oZJmVUMFRLSEZUVFlFNjVFV1E5RzZYRUcwRVVZTS4u" icon="" target="true"]Apply Online[/button]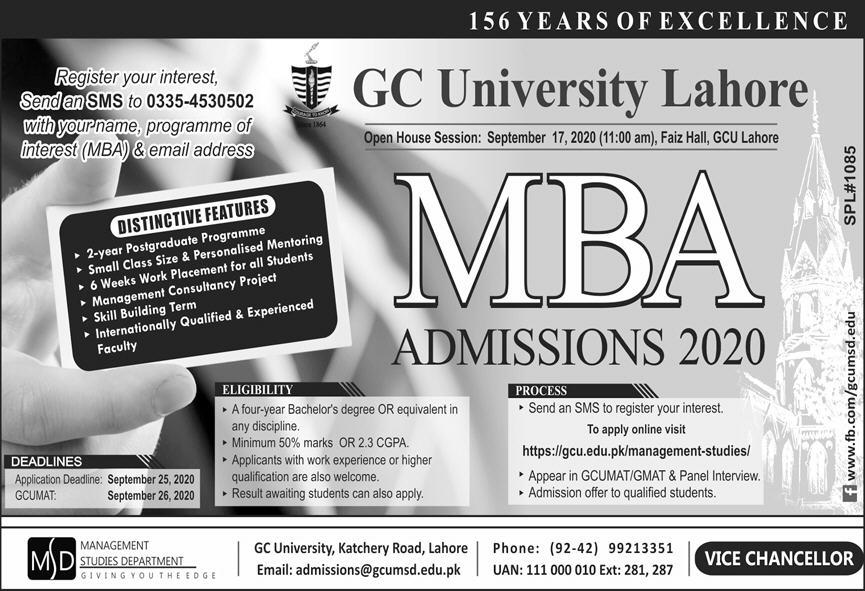 So I have written down the complete information regarding the GC University Lahore MBA admission 2023 apply online form last date. I am hoping that you are all now well aware of how to apply and where to apply as well as the last date is necessary to meet the requirement. In case any candidate is having further confusion or suggestions you can leave your comment in the following commenting section. Our team will provide you full-time support against your FAQs about GCU Lahore admission in Masters of Business Administration.