Hajj Online Application 2023 Pakistan Start Date 20th February, First List Announce March: without any delay we are sharing correct information for all people those who want to perform Hajj in 2023. Congratulation Hajj policy 2023 is release by Pakistan Religious affairs ministry. According to religious ministry government of Pakistan is announced Hajj 2023 policy on February 2023. Yesterday through one electronic media press conference Hajj Online Application 2023 will download from 20th February 2023 and Hajj Application will submit till February, 2023. Remember on March hajj first list will issue by Pakistan religious affairs ministry. All applicants will remember on March, 2023 Pilgrims first list will issue after draw.
Topic:
Hajj Online Application 2023 download and submission dates
Hajj Online Application 2023 Pakistan Start Date 20th February, First List Announce March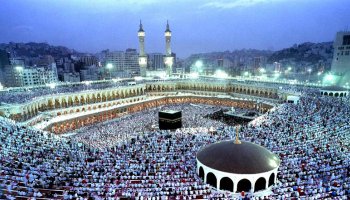 Hajj Policy Announcement date:
On January 2023 date hajj policy is announced (yesterday)
Minister of Religious Affairs Sardar Muhammad Yousaf
Hajj Package for Pakistani people by Ministry of Religion Affairs Hajj policy 2023:
Karachi, Quetta and Sakar Pilgrims Hajj package amount in Pakistani rupees 426000 without qurbani expense.
Karachi, Quetta and Sakar pilgrim's hajj package 2023 amount included Qurbani 446000 rupess
Islamabad, Lahore, Peshawar, Rahim Yar Khan, Faisalabad, Sialkot hajj package with qurbani expenses 436000 and without qurbani expanse 456000 Pakistani rupees.
Qurbani Expance for Hajj:
If you want to buy qurbani without any package involvement then 19,340 amount estimated will apply on this expanse.
Government Hajj Scheme package 2023:
For South region Sindh, Balochistan GOVT Hajj Package 2023 amount is 436000 Pakistani rupees
Other All Pakistan region included Punjab hajj government scheme 2023 package amount is 2,80000 rupees
In above mentioned package Qurbani expanse is not included by Government so 19,340 rupees will submit separately
Hajj Application form 2023 submission Banks Name:
National Bank of Pakistan, Allied bank limited, Muslim commercial bank, United Bank Limited, Habib Bank Limited, Bank Alfalah, Bank of Punjab, Mazan Bank
Click for Hajj Application form  
Hajj Application form submission dates:
20th February, 2023 time period for Hajj Online Application 2023 Pakistan submission.