Higher Education Commission HEC indigenous scholarships 2023 for Balochistan application form MS/MPhil/Ph.D. Pakistan Army and Balochistan Government are working on tribal areas of Pakistan to promote the educational system. If you are also among those who are going to attempt the graduation programs then just be in tune. The officials have set the eligibility criteria which is necessary for all the graduates to meet. If you will meet the eligibility then you will be called for the interview. At the time of the interview, the officials will analyze your documents and if the documents will be verified then they will be entertained with the scholarships which offer free-of-cost studies on a stipend.
Through different programs and projects, Balochistan domicile holders are getting extra opportunities for better personal and professional life facilities. Yes, this is a reality HEC Indigenous Scholarship of Balochistan Batch III is offering a Study scholarship for a Ph.D., MS/ MPhil degree. Readers HEC Indigenous Scholarships 2023 For Balochistan Master or Ph.D. Students are offered under the Aghaz-e-Haqooq-e-Balochistan package AHBP. Only Balochistan domicile holder will apply their job application form through HEC online website platform. Only HEC online application form submission procedure is attached with the apply complete procedure.
HEC Indigenous Scholarships 2023 For Balochistan Application Form MS/MPhil/PhD
The Higher Education Commission HEC has launched the Indigenous scholarships for balochistan students. Those who want to take admission in postgraduate porgrams including MS/ MPhil/ and PhD programs can apply for this program. You have to stay in tune with this page because as soon as the officials will announced it will be uploaded here on this page.
HEC Indigenous Scholarship Eligibility: 
Local Domicile Certificate of Balochistan
16 years of education Bachelor/Master's degree
Minimum 45 % marks in the annual exam in 16 years of education or CGPA 3.0 out of 4.0 in the semester system
A 3rd-degree education career is not acceptable for HEC Indigenous Scholarships 2023
50% marks in Cumulative test score in the HEC Scholarship Aptitude test
Minimum of two certifications or degrees must have been completed
maximum age 35 years age for MS/Mphill 18 years education for Ph.D. 30 years age for MA/MSC Bachelor 16 years degree
Check Also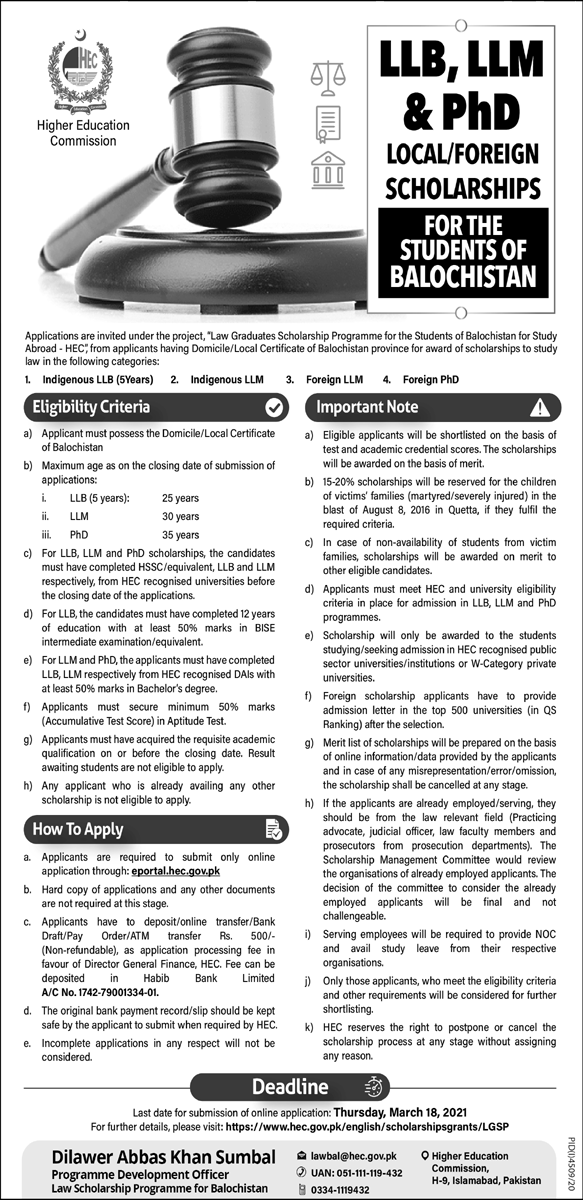 How to Apply? 
www.hec.gov.pk/site/ahbp All Public Sector Universities of Balochistan is an HEC official link for HEC Indigenous Scholarships for Balochistan students. Through this link application, online form registration will complete for the application procedure.
Click on the link below to apply online for the HEC Indigenous scholarship 2023
There you will see an application form
fill-up the form and attach all the required documents with it
You have to stay in tune with this page and then just wait until the officials announced it
Click on the link below to apply
Hence the complete details about HEC Indigenous scholarships 2023 for Balochistan application form MS/MPhil/Ph.D. I hope you have taken the details which you are finding online. While for taking more information you can leave comments below and we will share further updates with all of you and it will be beneficial for you.