Pakistan Army now offers jobs for the medical students of Pakistan so those who are interested can Join Pak Army As Medical Cadet 2023. The registration are open now and will be closed on 31st October, 2023. There are two options in front of candidates for the registration. One is though the Online via website and second is by visiting Army Selection and Recruitment Center. The centers are in different cities including Rawalpindi, Lahore, Karachi, Peshawar, Quetta, Multan, Hyderabad, Muzaffargarh, Gilgit and Faisalabad. M Cadet Jobs are open for all eligible but for those who rejected twice from ISSB for post graduate entry. Twice not recommended from M Cadet job by GHQ, Twice Screened out by ISSB and if found in involve in any criminal activities. Those candidates who got selected as the Medical Cadet in Pak Army need to continue their medical studies from the institute they are enrolled. Once they complete the Medical education they will be called for a basic military training and then will be commissioned in the Army Medical Corps as Captain.
Join Pak Army As Medical Cadet 2023 Online Registration
Candidates need to have few documents along with them at the time of registration as well as during appearance in the test. The documents include 2 attested Photocopies of educational Certificate. 2 attested copes of Computerized National Identity card. 4 Passport size attested photographs. A pay order receipt of Rs.500/-.
Medical Cadet Eligibility Criteria
Age of the candidates must be in between 20 years to 26 Years on 27th September, 2023
Only Male candidates are eligible for the Pakistan Army Medical Cadet jobs 2023
Applying candidates must be of the Pakistan Nationality
Minimum height for the candidates are 5 feet and 4 inches where as the weight of the candidate should be as
per the body mass index.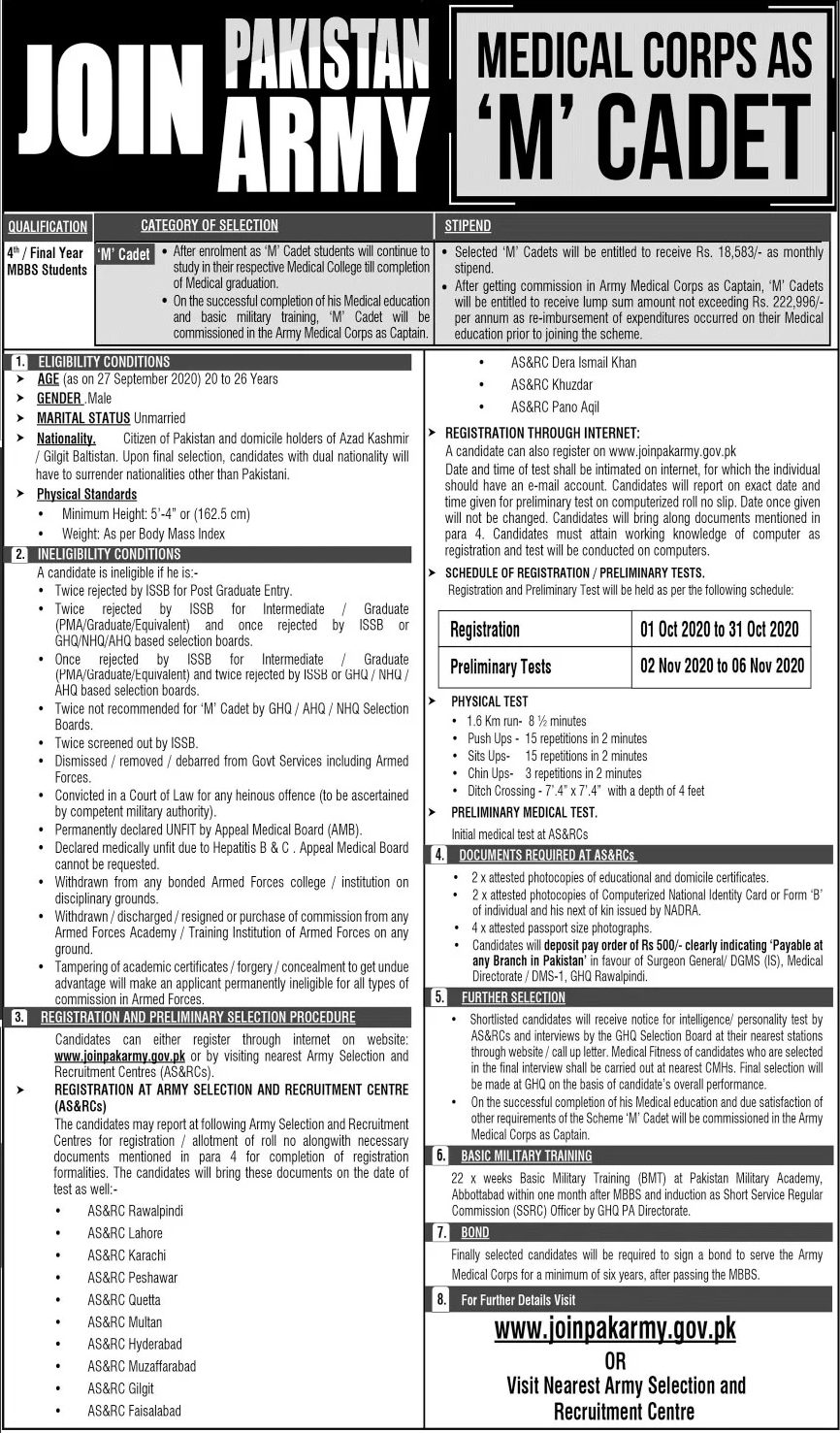 Army Medical Cadet Registration 2023
Those candidates who laid down on all the eligibility criteria as mentioned above in can apply online through Pakistan Army jobs portal. Apply Online by clicking here. candidates before registration you need to have a email address. Once you register then all the communication to you are through the email address which you mentioned in the form.
After the registration process the selected candidates will need to appear in the preliminary Test which is conducted by the Pakistan army that include Physical test and then the written test. These test are conducted in different cities so you can appear in the nearest city for these test.