Here you can join KIPS MDCAT, ECAT entry test preparation classes 2023 NUST, FAST, GIKI. Entry test preparation session 2023 is starting these days for all applicants. Students will prepare for their exam Entry test through KIPS Private education preparation academy.  KIPS Entry test sessions admissions are open for all students. Male and female both genders students will apply their application forms in KIPS entry test preparation. KIPS Academy is offering MDCAT, ECAT, NUST, NUMS, PIEAS, GIKI FAST, IIU, COMSATS, LUMS, PU, UET, LSE, AGA KHAN, NCA NTS, NAT, IB&M UET, NTU, and GCU entry test programs. You have to apply online as per the following details which
KIPS entry test sessions 2023 admission is open so students will contact with nearest KIPS academy for admission further formalities.  The KIPS NUST test preparation classes will start in February, and after 15 days other news sessions will start for applicants. KIPS academy is the number one entry test preparation network academy. According to KIPS highest number of qualifiers and top positions, the staff is available for students.
KIPS MDCAT, ECAT Entry Test Preparation Classes 2023 NUST, FAST, GIKI
This page is containing the information about the KIPS MDCAT, ECAT entry test preparation classes for NUST, FAST, and GIKI. Here you are taking the eligibiltiy criteria and applying procedure which is very important and necessary to you to apply online. Just be here in this page and we will upload the further details about how to apply and terms conditions.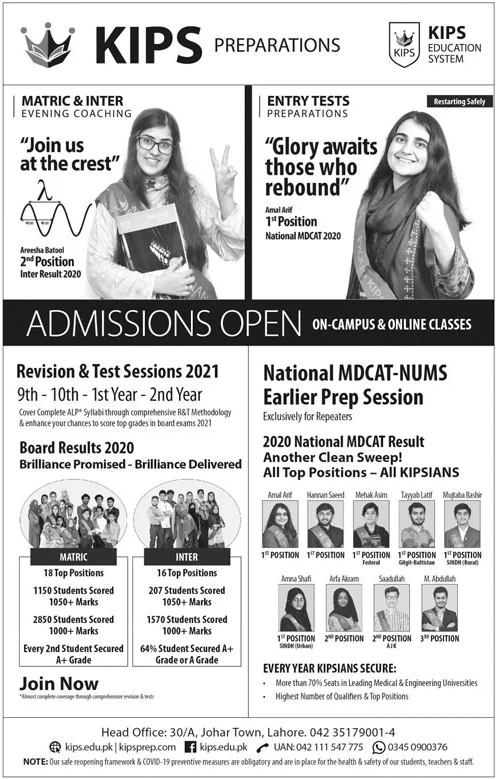 How to Apply?
Through MCQs format MCAT, ECAT and other all program seat preparation are starting for all KIP students. This is a reality KIPS MDCAT, ECAT Entry Test Preparation Classes NUST, FAST, GIKI, and other entry test program end result are always best for students due to the best teaching method.
Click on the link below to apply online
There you will fill-up the form online and download it
The second better option for students is to apply through the KIPS branch
There you will pay the fees as per the KIPS fee structure
Never get late from the last date
[button color="blue" size="medium" link="httpss://entrytest.kips.edu.pk/Admissions" icon="" target="true"]Apply Online[/button]
Hence the complete information about KIPS MDCAT, ECAT Entry Test Preparation Classes 2023 NUST, FAST, GIKI is written on this page. Hope you have taken all the information regarding your preparation for the entry test. But in case you are having any further confusion or query you can leave comments in the following comments section.