Here we are talking about one National testing exam result. Through this page you will get KP STVET Jobs NTS Test Result 2023 12th, 13th, 14,15th October Answer Key. Few days ago System technical and Vocational Education and training KP-STVET offered different posts named Chief Master Trainer women-focused, Chief Master trainer Construction Civil, Chief Master trainer Energy, Chief Master trainer Repair and Maintenance, Chief Master trainer Manufacturing, Chief Master Trainer Hospitality, Vocational Counseling Job Placement, National Skill Information System and Research and Development, Monitoring and Evaluation, Master trainer Electrical, Master trainer masonry Work, Master trainer Civil, Master trainer Carpentry, Master Trainer Auto Mobile, Master trainer Glass Manufacturing, Master trainer Machinist, Master trainer Sheet metal, Master Trainer hospitality, Master trainer Soft Skill Management, Master Trainer Information and Communication Technology, Master trainer lead Assessor, Master trainer Beauty Care, Master trainer Fashion Design Master trainer Gem processing, Master trainer Allied Health Sciences, Master trainer Micro Hydro Power, Master trainer HVAC, Master trainer Industrial electrician and other master trainer. These jobs application form submitted In 19th of July 2023 date.
You have information here we are sharing KP STVET Jobs NTS Test Result 2023 searching complete method. Remember through this page you can easily understand the answer keys objective.
KP STVET Jobs NTS Test Result 2023 12th, 13th, 14,15th October Answer Key
Highlights:
| | |
| --- | --- |
| Department name | Technical and Vocational Education and training |
| Test date | 12th and 15th October 2023 |
| Result search method | Search result by CNIC or name wise |
| Result announcement authority | NTS www.nts.org.pk |
KP STVET Jobs NTS Test Answer keys 2023:
System of technical and vocational education and training KP-STVET NTS written test answer key 2023 will issue on the last test date means the 15th of October 2023. You will easily judge NTS written test result idea after answer keys self-examination procedure. Answer keys main objective is you can easily get idea about the upcoming written test result.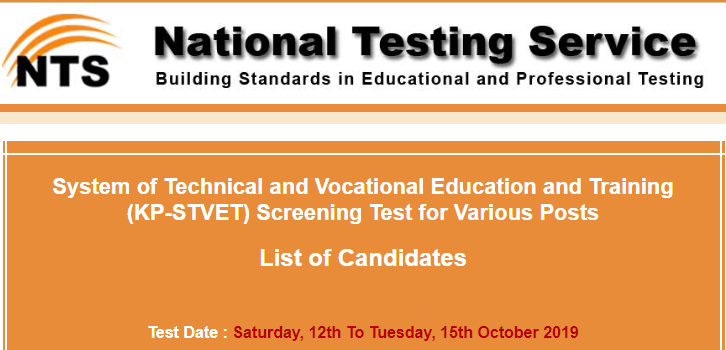 KP STVET Jobs NTS Test Result 2023:
You will search result by name and CNIC wise through www.nts.org.pk website. This is a fact this page will try to update result NTS page for visitor result searching.