Latest alerts about Manjaanbazam cadet college admission 2023 form, entry test result, last date to apply online. MJCC admission forms for the 7th, 8th, and 9th classes are available on this page. Students have to check if they are meeting the eligibility criteria and attempt the entry test. All those candidates who have passed their previous class and now want to take admission in Manjaanbazam Cadet College, he has to read this entire page and apply as per the instructions we have written through the official's information. Remember that never get late from the last date otherwise, you will be rejected to proceed with any further enrollments.
The history of Manjaanbazam Cadet College is attached with the Major and General Tahir Masood Bhutta HI (M) who put the vision of Cadet College in Ghazi, Tarbela Cantt. The first campus was active for regular admissions in Ghazi in 2023. Later that they have also built their campuses in Barotha and Cherat locations. These campuses are also ready for the intake and students can apply for 7th, 8th, and 9th class admission. This time the MJCCS admissions 2023 are open for the new candidates who have to apply as per the following instructions.
Manjaanbazam Cadet College Admission 2023 Form, Entry Test Result, Last Date
7, 8, and 9 class admissions in Manjaanbazam Cadet College are open for the year 2023. Students have to check their eligibility criteria and apply as per the instructions given by the officials. We are guiding you all about this new intake and suggest that you must apply through a proper channel.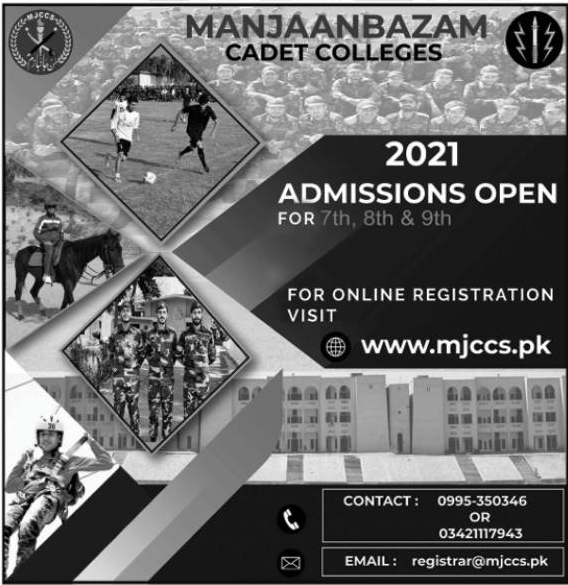 MJCCS Admission Eligibility:
The Manjaanbazam Cadet College MJCCS admission eligibility criteria 2023 is set for the students as per their age and marks.
Those students who are studying in the class they are going to apply or have passed the previous class
The marks in the previous class must be minimum of 60%
Only boys can apply to this college
A student must be medically fit
Written based entry test and interview will also be taken
The age of a student must on 1st April as per the followings
7th Class Age: 11-13 years
8th Class Age: 12-14 years
9th Class: 13-15 years
11th Class Age: 15-17 years
How To Apply?
If you are meeting the above eligibility criteria, then you have to complete the following procedure to apply online Manjaanbazam Cadet College admission 2023 form.
Download the admission form on www.mjccs.pk/admission/
Fill up the form and attach your required documents with it
Submit this form at the college's admission office
Never get late from the last date
Attempt the entry test and pass an interview for the final intake
[button color="blue" size="medium" link="httpss://www.mjccs.pk/media/1150/admission-form.pdf" icon="" target="true"]MJCCS Admission Form Download[/button]
Complete information Manjaanbazam Cadet College admission 2023 form, entry test result, last date is written on this page. We suggest you stay in tune with this page. As soon as the MJCCS entry test result is announced that will also be uploaded here on this page. We wish you all the best for your career in the armed forces of Pakistan after studying at this cadet college.