Here we are sharing METRO 150cc Loader Price 2023 In Pakistan Hi-Speed Rickshaw. According to the advertisement of the METRO motorbikes, the company launched METRO 150cc Loader at a very affordable price in front of its benefits. This is a reality in Pakistan small loader transportation is a very useful product to move and to earn. According to public reviews, it is best to alternate for pickups or other loading vehicles. It is because if a pickup is charging Rs. 3000 for any moving then the loader rickshaw will cost half of it. This is a small transportation business that is starting with a small amount. And the Metro loader rikshaw will be the best option for you about its quality and price as well as its reliability.
Metro Motorbikes company is Pakistan's top-listed motorbikes producing company. For many years they are producing fine-quality motorcycles and have gained a well-reputed name in the market. They are manufacturing 70cc, 125cc motorbikes, 150cc, and 200cc loader rickshaws and auto-rickshaws. If we talk about the price range then you can be the owner of your own vehicle within just a very affordable price range.
METRO 150cc Loader Price 2023 In Pakistan
Pakistan's best automobile company METRO 150cc loader price in Pakistan hi-speed rickshaw is now available. You can choose colors for Red or Black while the price range is very affordable. You can read its features and price range from the below post, so just continue reading to get more interesting details.
Features:
Power 150cc 4 Stock engine
Hydraulic Rear Brake
Balancing Rods
Wide and strong TRALI  79 * 52 * 19 Size
Engine Cooling Fan
Double Leaf Springs
METRO 150cc Loader Price 2023 In Pakistan Rs 195, 000/-
On Advertisement and any other official source, METRO 150cc Loader Price 2023 In Pakistan is not available for all readers. But according to the market experts, this product will available in the market cost from Rs. 195000 to 210000 PKR amount. If you want to get a dealership then you will contact Ohad Motors PVT LTD 10km Raiwind Road Near Bhobatian Chowk Lahore Tele number 0345170888.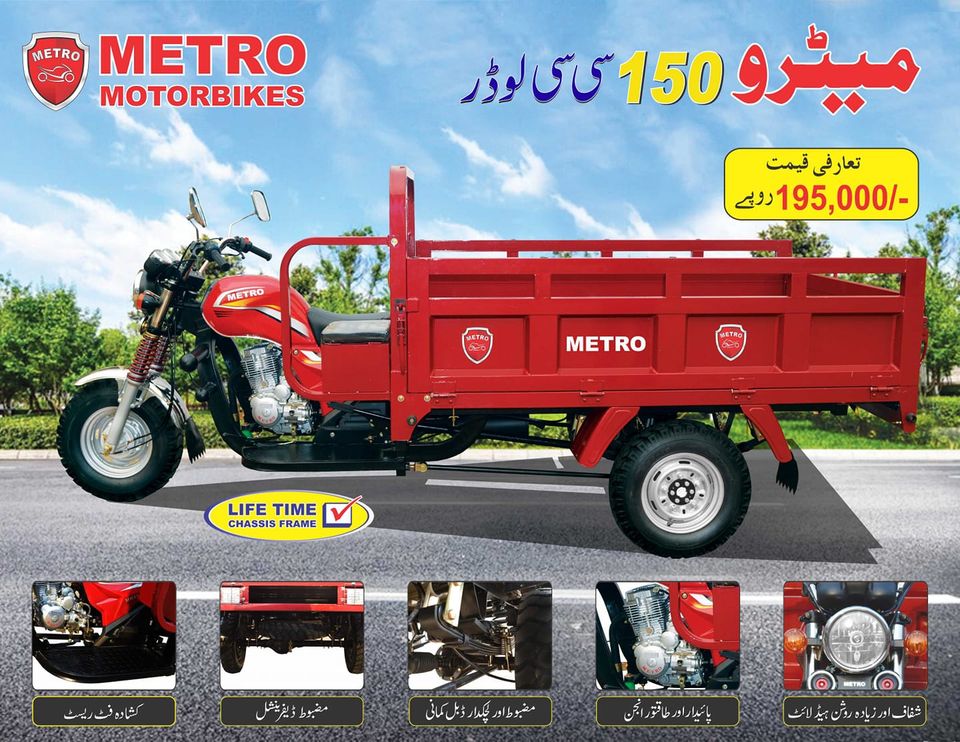 Here we want to mention Bike Loader is the very best product for all unemployed youth who want to get a handsome amount per month. If you are searching for the Best product for the Bike Loader business then METRO 150cc Loader is the best product. This product is offering a Life Time Chassis Frame warranty for all METRO 150cc Loader purchasers. You can get METRO 150cc Loader Rickshaw price In Pakistan Hi-Speed Rickshaw advertisement.