Get complete details of the National Logistic Cell Jobs 2023 NLC application form advertisement download from this page. Eligible professionals are invited to different positions on a contract basis. Hiring will be made after analyzing the complete eligibility criteria of each candidate. There will also be an entry test which is necessary for the aspirants to pass this test. Those who will pass this test will be shortlisted for the interview. All those who will qualify for the interview will be called for the hiring appointments. So, everything is depending upon the eligibility you have to fulfil. Just be in tune with this page and keep on reading to take more relevant information about NLC Jobs 2023. We wish you all the best in your career in National Logistics Cell Pakistan.
National Logistic Cell Jobs 2023 NLC Application Form Advertisement
Contract-based vacancies are open in National Logistic Cell Jobs 2023. You can apply for these jobs that are vacant now. In addition, you need to check whether you are eligible or not. Therefore, if you are eligible, then apply for the job. So, just continue reading this page and we will update you with the latest information released by officials for hiring the new staff in the National Logistics Department.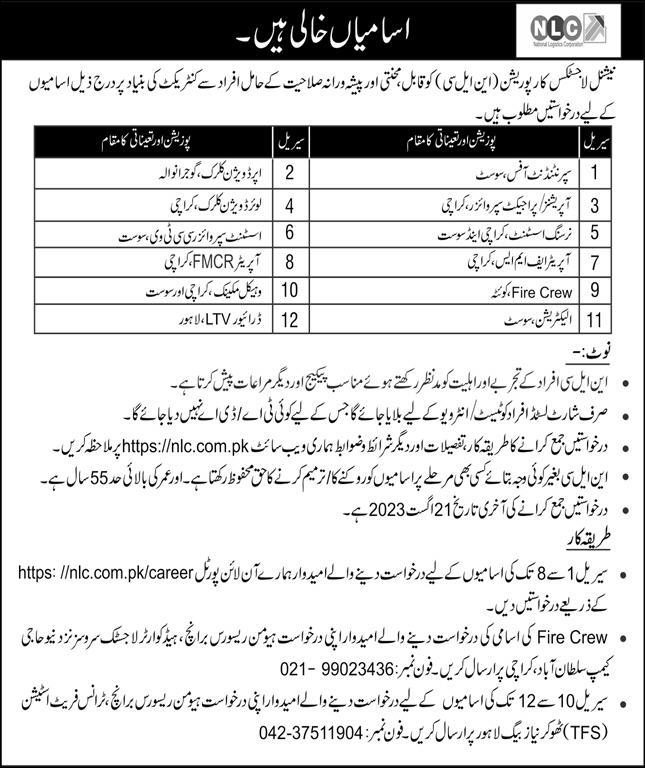 NLC Job Posts:
Superintendent Office, Sost
Upper Division Clerk, Gujranwala
Operations/Project Supervisor, Karachi
Lower Division Clerk, Karachi
Nursing Assistant, Karachi & Sost
Assistant Supervisor CCTV, Sost
Operator FMS, Karachi
Operator FMCR, Karachi
Fire Crew, Quetta
Vehicle Mechanic, Karachi & Sost
Electrician, Sost
Driver LTV, Lahore
Eligibility Criteria:
When applying for the job, you will get the complete requirements on the NLC website. In addition, while you are applying, you can see whether you are eligible or not. So whatever post you want to apply to first make sure either you are meeting the following eligibility criteria or not as per the following details.
NLC Jobs 2023 Application Form:
For jobs, no 1 to 8, apply by clicking the button above.
There you will get the form. Fill it out and submit it online.
Fire Crew applications should be sent to Human Resource Branch, HQ Logistics Services near New Haji Camp Sultanabad, Karachi.
Applications for Jobs number 10 to 12 should be sent to Human Resources Branch, Trans Freight Station (TFS) Thokar Niaz Baig Lahore.
So far I have written down the complete details about National Logistic Cell Jobs 2023 NLC application form advertisement. So, hopefully, you got the details here. I hope, you have taken all the details about this intake but in case of any further details about this job then must share your comment in the following commenting section.