Before Pakistan navy's latest jobs searching you can read Pakistan Navy ranks and salaries 2023 complete details. Pak Navy professional working and honesty with force is recognized by world Navy forces. Pakistan river and the ocean are very sensitive areas due to the Indian and Iran border. This is why Pakistan Navy hires the best troops and gives them personal training to make them efficient and perfect. If you also want to join PN then you must be aware of the PN ranks and salaries in 2023 according to the BPS. We are also discussing the eligibility criteria and how to apply the procedure which is very important and necessary for all of you to readout.
This is a reality Pakistan Navy jobs requirements is base on very strict requirement rules and regulation. Both males and females can join PN after matric, inter, graduation, masters, or any professional studies. If you want to join Pakistan Navy as an officer or low-grade rank holder then yes you can apply Pakistan Navy's prescribe application form under the instruction of the concerned authority. Continue reading this article to increase your knowledge regarding the title.
Pakistan Navy Ranks And Salaries 2023
On this page we have arranged the Pak Navy ranks with badges and salary for each position in current year 2023. You can apply in naval force of Pakistan after Matric, intermediate, graduation, or masters as well. But you have to make sure either you are eligibel and what position you are suitable to apply in. Reading this article will make you aware regarding what are ranks in Pak Navy and what are their badges signs on uniform.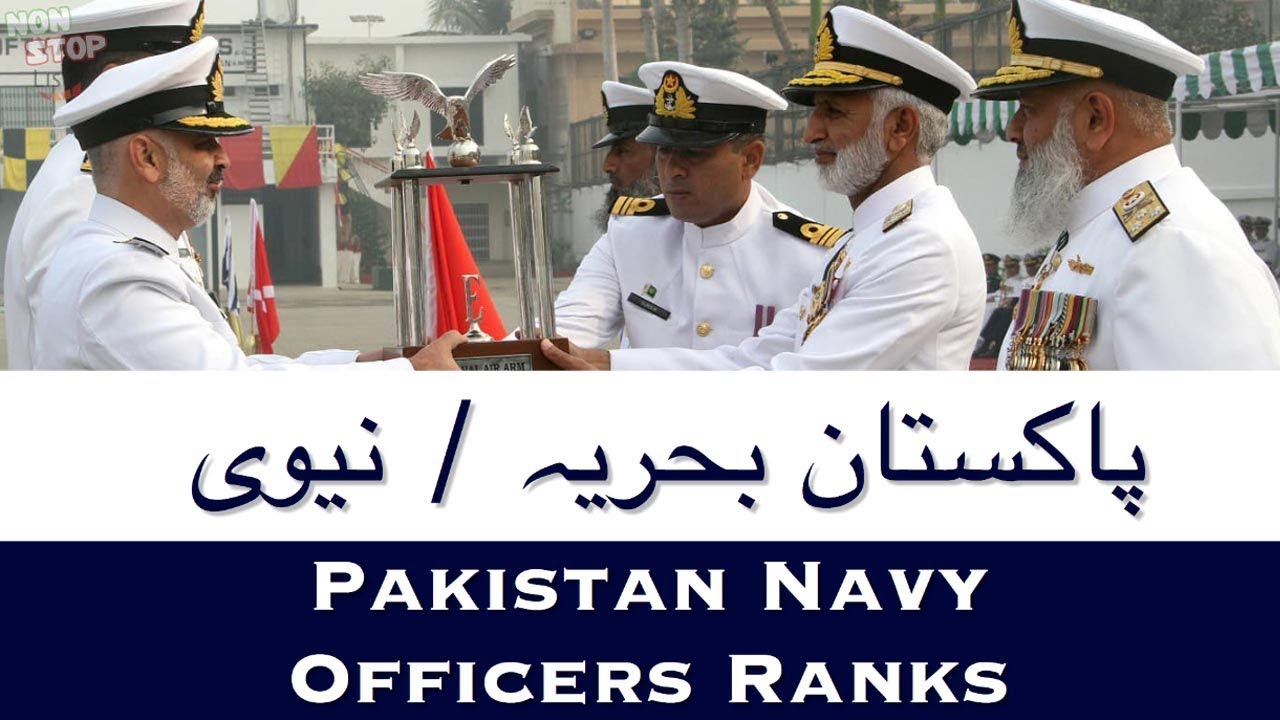 Pakistan Navy Ranks 2023:
Top offices rank names are Midshipman, Sub Lieutenant, Lieutenant, Lieutenant Commander, Rear Admiral, Vice Admiral, Admiral, Admiral of Fleet, Admiral, Vice Admiral, Rear Admiral, Commodore, Commander, Lieut Commander, Lieutenant, Sub Lieutenant, and Midshipman. Low-grade vacancies are also available for applicants who want to get apply for Pakistan Navy low-grade vacancies. If you want to get these vacancies application forms then yes you are in right place. This website is giving Pakistan navy each job advertisement. Further, you can read the following table for Pakistan Navy Ranks 2023 with badge images.
PAKISTAN NAVY RANKS
PAKISTAN ARMY
EQUIVALENT RANKS
PAKISTAN AIR FORCE
EQUIVALENT RANKS
MIDSHIPMAN
2ND LIEUTENANT
PILOT OFFICER
SUB LIEUTENANT (S/Lt)
LIEUTENANT
FLYING OFFICER
LIEUTENANT (Lt)
CAPTAIN
FLIGHT LIEUTENANT
LIEUTENANT COMMANDER (Lt Cdr)
MAJOR
SQUADRON LEADER
COMMANDER (Cdr)
LIEUTENANT COLONEL
WING COMMANDER
CAPTAIN (Capt)
COLONEL
GROUP CAPTAIN
COMMODORE (Cdre)

BRIGADIER
AIR COMMODORE
REAR ADMIRAL (RAdm)

MAJOR GENERAL
AIR VICE MARSHAL
VICE ADMIRAL (VAdm)

LIEUTENANT GENERAL
AIR MARSHAL
ADMIRAL (Adm)

GENERAL
AIR CHIEF MARSHAL
Pakistan Navy Salaries 2023:
Pakistan Navy salaries 2023 packages are very attractive for all selected candidates. If you want to get Pakistan Navy each post salary details then remember basic salary package is different and total per month salary package is different due to different allowances features add procedure. Pakistan Navy per month salary packages starting from 35000 to 100000. Pakistan Navy is giving transportation, residence, food, and health allowances. for any further details, you can drop your comment in below comment box. Remember on this page different government department ranks, pay scale, and salary packages details are available for all readers.
So these are the details of Pakistan Navy Ranks And Salaries 2023 with badges and grades list in table form. We hope that you have taken all the details which you are finding online. In case you are having any further inquiry or query you can as anything through comments.