Utility Stores Corporation has released the PM Ramzan Utility Store 2023 complaint contact number helpline: This Ramzan Federal government has announced a new relief package for the ease of the general public with a huge amount of 2.5 Billion. According to the concerned authorities, the federal government is following PM instruction for the Utility Stores Ramzan Package 2023 Rate List. According to PM Pakistan, this year Ramzan month will celebrate with quality products at low prices throughout the whole country. Every year government is giving low-price quality products to all Pakistani people. Usually, these stores are managing the quality of their products under the PM instruction. But this is a reality Pakistan is facing high-level corruption in every sector.
Just like the previous year, it is habitual to maintain the lowest prices against the fine quality of daily use commodities. This year in 2023 again the products and their availability will make sure strictly. The concerned corporation actually approves the exact amount of product but those who can afford the products from the private stores, even use to shop from govt stores. That is why the really needy person remains behind for being beneficiary in buying commodities from Utility Stores. If you also have any issue or complaint in this matter must call the record your complaint as per the following method.
PM Ramzan Utility Store 2023 Complaint Contact Number Helpline
If anyone is having any kind of issue from the performance of Utility Store's staff, availability of products, wrong price, neatness and quality of products, must call the PM Ramzan Utility Store 2023 complaint contact number helpline center. You can also send e-mail which is also mentioned downside.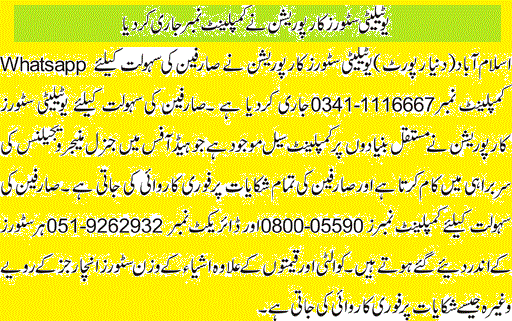 How To Register Complaint On Utility Store Helpline Number?
If you are facing any issue in any PM Utility store then yes you can easily register your complaint on the following number.
You can directly call on these number for Utility Store complaints/Suggestion: 0800-05590, 051-111-123-570
After calling on the given number, a computer recorded voice will ask you 2 or 3 options in which you have to choose the correct one.
One can directly talk to the representative if he or she is free from the others complaints, or you can also record your complaints which will be later tracked
If you have internet then you can also click on the button given below for registering you are complaint
Which Types of Complaint Can Register?
If you are getting low-quality products.
Products rate difference as compare to Government product list
Utility stores manage rude behavior
Product non-availability
Hope you are all now well aware of the procedure about PM Ramzan Utility Store 2023 complaint contact number helpline center. We have also told you the online complaints/ suggestions procedure which you can register through the internet. If you have any suggestions you can also share them in the comments and that will be readable for the others and it will help you the authorities for the improvement in the system.