Pakistan Medical Council PMC National MDCAT syllabus 2023 sample papers pdf download from this page. Medical and Dental Colleges Admission Test for MBBS and BDS admission will be held on Sunday 15 November 2023 in all over Pakistan. Students belonging to any province including; Punjab, Sindh, KPK, ICT, Balochistan, AJK, and GB are hereby required to attempt this test. PMC has hired the National Testing Service (NTS) for taking this test. Previously this test was taken by UHS in Punjab, ETEA was taking this test in KPK, NTS was holding this test in Sindh, but now the government has set this rule all over the countrywide to take a single medical test on same standards. If you are going to attempt this test then you must prepare the given PMC National MDCAT sample papers in PDF from the following side.
According to the PMC Act 2023, the government has arranged a single medical test countrywide. The purpose is to capture the control of the medical profession.  It will establish a uniform minimum standard of basic and higher medical education and recognition of qualification in medicine and dentistry. Now FSc pre-medical, A-Level, and equivalent students will attempt and pass this test before taking admission to MBBS and BDS in any public or private medical or dental college.
PMC National MDCAT Syllabus 2023 Sample Papers pdf download
The same medical test (MDCAT) will be conducted all over Pakistan for MBBS and BDS admissions. This test will is designed by the Pakistan Medical Council (PMC) and arranged by the National Testing Service (NTS). Now this combined medical test in Pakistan will be held on Sunday 15 November 2023. Through this page, you can prepare the given sample papers of the PMC National MDCAT syllabus 2023 from all the provinces.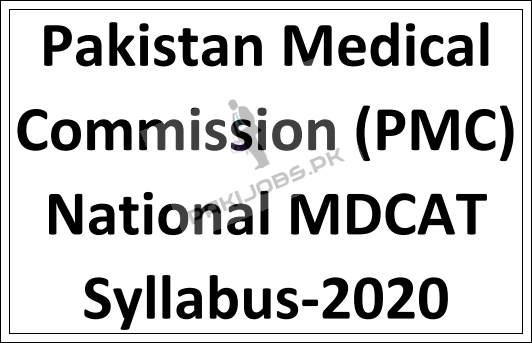 Test Questions and Total Marks:
The PMC MDCAT content weightage includes the test question and total marks. This test will be conducted from Biology, Chemistry, Physics, and English subjects. The total marks of this test are 200 as per the below-given table.
S No
Subjects
Weightage
Percentage
Questions
1
Biology
40
80
2
Chemistry
30
60
3
Physics
20
40
4
English
10
20
Total
100
200
PMC National MDCAT Syllabus:
The officials Pakistan Medical Council PMC National MDCAT Syllabus 2023 in PDF available here. You can prepare this syllabus for all the subjects given above. You can also download this syllabus for your ease to save on your Laptop or PC. We are also suggesting to you that the preparation material is available in textbooks. So if you have prepared your class with full concentration then you will find it easy to attempt this test. But the given syllabus will also be a helping material for the students. You will also get the download link below on which you can click to save it.
PMC MDCAT Sample Papers:
You are informed that the PMC MDCAT sample papers included guidance about how to attempt this test and what is the correct way of grabbing the marks. This test is not an easy task for students to attempt because officials have set the same standards for all the students. You can attempt this test as per the given details which are listed below. Just keep on reading to download these samples in PDF.
So you have taken Pakistan Medical Council PMC National MDCAT syllabus 2023 sample papers Pdf download online. You must prepare these test papers and stay attached to this page. If you have any questions or questions regarding the preparation of the PMC Medical Test, you can leave comments below. We wish this test will bring unity and equality to medical studies all over Pakistan. This test will analyze all the students about to deliver the best and merit meeting students to be enrolled in MBBS or BDS admissions in Pakistan.