Search Poonch Medical College Rawalakot merit list 2023 MBBS 1st, 2nd, 3rd from this page. This college is providing MBBS and BDS degree education for FSC pre Medical pass students. This college total number of admission seats for MBBS, BDS programmes are limited as compared to total admission application form. Due to competition Poonch Medical College Rawalakot admission will base on the combined entry tests and previous education percentages. Now, what all you have to do is waiting for the announcement. As soon as the officials announced it will be available here on this page.
Poonch Medical College Rawalakot is the best medical institute in this area. Here students are taking medical and dental studies under international level standards. Every year this institute is offering admissions to MBBS and BDS programs for 100 seats. But only those students get enrolled who pass the combined entry test. This test is taken by the testing agency and it is necessary for the students to chase a minimum 50% marks in this test to be on the merit list.
Poonch Medical College Rawalakot Merit List 2023 MBBS 1st, 2nd, 3rd
It is to be informed to all of you that as soon as the Poonch Medical College Rawalakot merit list 2023 MBBS 1st, 2nd, 3rd are announced will be available here. You have to stay in touch with this and keep on reading to get the latest updates. Further information regarding the merit list date and details are written here. Just keep on reading this article to get further details that are necessary for you to stay updated.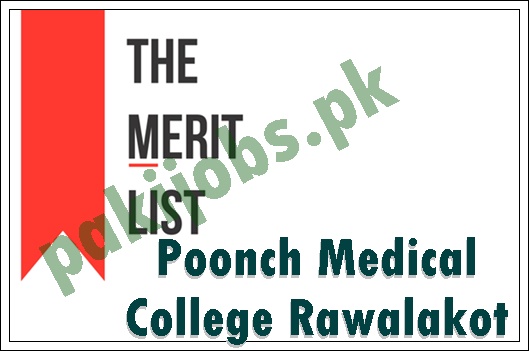 When PMCAJK Merit List 2023 MBBS Coming?
Poonch Medical College Rawakot Azak Jammu Kashmir PMCAJK merit list 2023 MBBS is coming from the onwards of October. This test was held on 4 October in all over the AJK and more than one hundred students appeared in this test. It is because only a hundred students will get admission so that is why the only merit meeting candidates will be called for the interview. Further, we are advising you that you must stay in tune with this page. As soon as officials announced the Poonch Medical College Rawalakot Merit List 2023 MBBS 1st, 2nd, 3rd will be uploaded here.
Admission Start from 1st September to 14 September 2023
Issuance of Admit Card 28 Sep to 03 October 2023
Entrance Test Date: 04 October 2023
Submission of Nomination Papers & Registration of Hafiz-e-Quran Test 5th October to 19th October 2023
Hafiz-e-Quran Test 26 October 2023
Medical Disability Board 27 October 2023
Final Selection List 26 November 2023
Beginning of Classes 07 December 2023
How to download Merit List 1st, 2nd, 3rd?
You will visit this page on Merit list issue day
On this page, the merit list is available with 1st, 2nd and 3rd heading
You will easily click on merit list heading
After this simple and short procedure will show on your screen
Your will easily download 1st, 2nd, 3rd Merit list without any difficulty.
[button color="blue" size="medium" link="https://www.pakijobs.pk/poonch-medical-college-rawalakot-entry-test-result-mbbs-online/" icon="" target="true"]PMCAJK Entry Test Result Click Here[/button]
Students Poonch Medical College Rawalakot Merit List 2023 will issue under the college admission schedule. We are not able to share exact date for PMCAJK 1st, 2nd, 3rd merit list. Students if you want to get Poonch Medical college Rawalakot merit list in Pdf File then download PDF file reader.