Punjab Public Service Commission PPSC Tehsildar syllabus and past papers English sample paper MCQs are given here in PDF. Last month in the newspaper the advertisement was released to hire Tehsildar and Naib-Tehsildar posts. Candidates will be hired after taking the entry test. It is mentioned in the rules and regulations of hiring of each aspirant to hire only those individuals who pass the entry test and shortlisted. So it is not enough for a candidate to just fulfill the eligibility criteria. Firstly you have to complete the eligibility and submit the form, while later that you will be required to pass the entry test that is very important for the graduates. Stay on this page where we have prepared the PPSC Tehsildar sample papers to help you out in preparing this test.
Tehsildar is a respectable position to hold a successful career lineup. A tehsil is an officer who sets the property tax after the government rubrics. The officials provide an inspector and complete support to hold the improvement to collect and to regain the taxes. Tehsildar is also treated as Patwari like job type who is having the file system details for the land property under his areas of jurisdiction. So if you also want to grab this worthwhile job post then must prepare the PPSC Tehsildar Multiple Choice Questions MCQs that are given below.
PPSC Tehsildar Syllabus
Tehsildar Consolidation Officer/ Hill Torrent Officer/ Reader to Members Board of Revenue is a BPS-16 grade officer. For both the male and female quota it is necessary to attempt and pass the written based entry test. This page we have prepared to provide you better help regarding the preparation of the PPSC Tehsildar Syllabus and past papers. Continue reading this article for taking further details and guidance about the preparation of this important test.
| | |
| --- | --- |
| Total Marks for Written Test | 400 Marks |
| Marks for Interview (Psychological Assessment) | 200 Marks |
English Paper: 1 Consists of English Essay (50 marks) and Composition (50 marks) = 100 marks
Urdu Paper: 2 Consists of Urdu Essay (50 marks) and Composition (50 marks) = 100 marks
Pak Studies Paper: 3 Consists of Pak Studies/ Islamic Studies/ General Knowledge = 100 marks
Paper: 4 Revenue Laws of Punjab Land Revenue Act, 1967, Punjab Tenancy act 1887, Land Acquisition Act = 100 marks
PPSC Tehsildar Past Paper
Candidates for your better guidance we are providing PPSC Tehsildar Past papers in English and Urdu. You can prepare your test as per the following details which are taking in the past years. Remember that you must get help from these past papers. You can further prepare the details about this test from the PPSC test preparation book available in the market.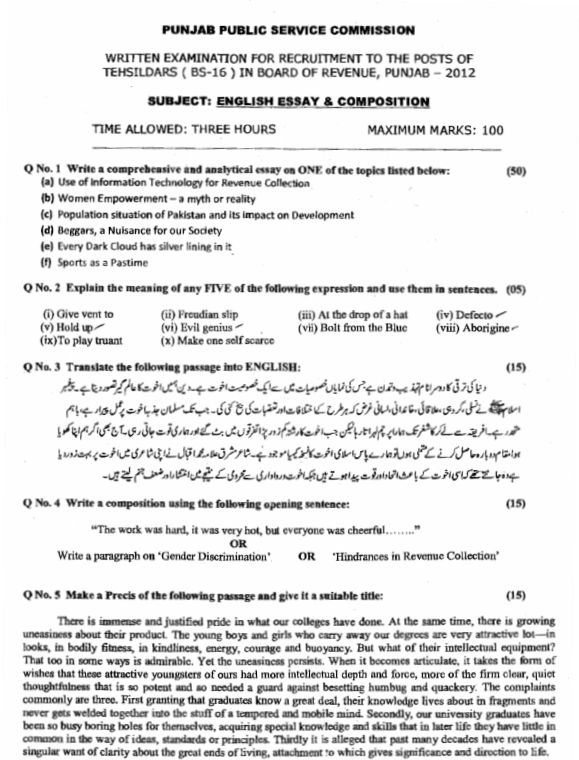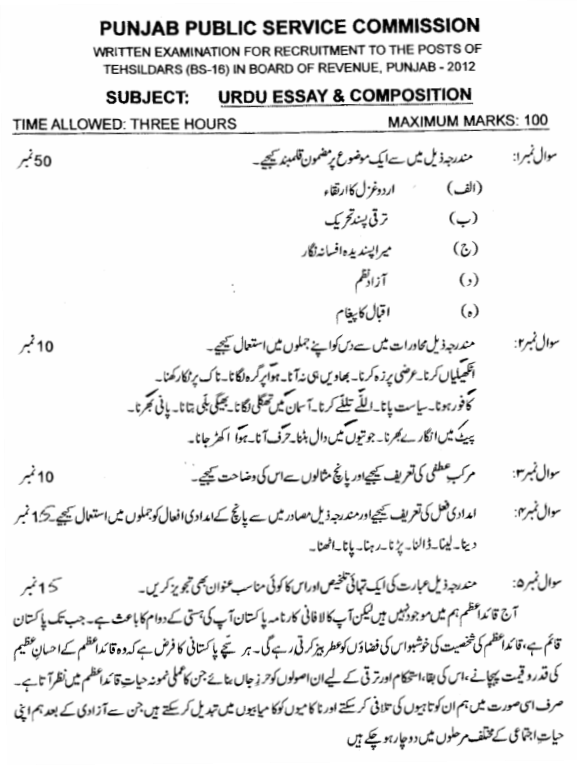 PPSC Tehsildar Sample Paper
Punjab Public Service Commission PPSC Tehsildar sample paper in PDF is not given online. The preparation is very important for students which you can prepare online. We are writing details of how to attempt the test and what type of Tehsildar MCQs are going to be listed below. But we are suggesting that you can buy the test preparation material available in the market. You have to stay in tune with this page and keep on reading this page to get these sample papers.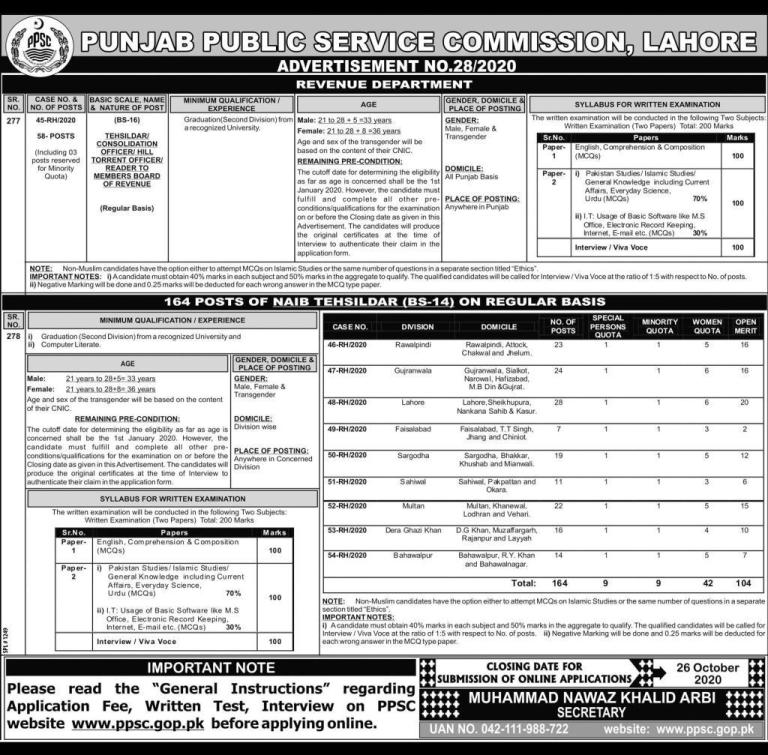 Hence the complete details about the PPSC tehsildar syllabus and past papers English sample paper MCQs in PDF format. I hope you have taken all the details which are very important to it. You have to keep on tuned to this page and just stay with this page. If you have any suggestions or queries relating to this page you must share in the following commenting section. We will bring www.ppsc.gop.pk syllabus for Tehsildar and Naib-Tehsildar.