Get E-Slip for Punjab Educator Pay Slip 2023 Teachers PIFRA salary slip through www.fabs.gov.pk. Are you currently doing a job as a teacher under the Punjab education department? Or you are a retired teacher, you can now download your Govt. salary slip or the pension slip from this page. Financial Accounting and Budgeting System FABS Pakistan have designed a Project to Improve Financial Reporting and Auditing (PIFRA). The purpose of preparing this system is to maintain the salary and pension report of each Government employee individually. Both the officials as well as the employees will get benefited through this system because they will stay up-to-date about their paying and receiving respectively. So if you are a govt. employee and want to download your salary slip or salary record then follow the procedure written on this page below.
PIFRA stands for Project to Improve Financial Reporting and Auditing. This project is been managing by the Financial Accounting and Budgeting System FABS Pakistan. This is really a public-friendly project through which the government employees as well as the teachers of the education department will be able to have a salary slip without long-standing into the manual ques. You can have your salary slip by following just simple steps written down. Keep on reading to get this information.
Punjab Educator Pay Slip 2023 Teachers PIFRA Salary Slip
Government teachers can now download their salary slip through the PIFRA system. This system is introduced by the FABs Pakistan. This page is telling you about how to download PIFRA salary slip and how it will ease your life by saving time in waiting in long queues.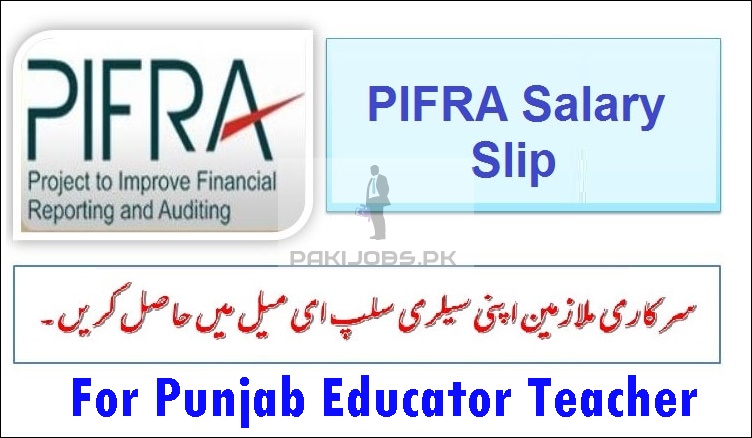 How to Register With PIFRA Salary Slip?
The procedure is the same if you are an in-service teacher or a retired teacher under the Punjab Educator department. You have to do the following procedure to staring taking your monthly salary slip via Email.
Click on the link below which will attach you with www.m.pifra.gov.pk/salaryslip
Select Your Province by the given codes as Punjab=P, Balochistan=B, KPK=N, Federal=F, Sindh=S, District Government Punjab=DGP, Gilgit Baltistan=GB, Kashmir Council=K, District Government KPK=DGN, Kashmir=K
Now you will enter your Govt employee number, CNIC number, Email Address, and Mobile number
The officials will send you an email at the given address
You have to open your Email inbox for the verification
Click on the submit button given below
[button color="blue" size="medium" link="https://m.pifra.gov.pk/salaryslip_emp#" icon="" target="true"]PIFRA Salary Slip Registration[/button]
I have discussed the procedure for Punjab Educator pay slip 2023 teachers PIFRA salary slip download method. If you are an in-service or a retired teacher under the Education Department then your salary slip is easily available to you. Teachers can download the PIFRA salary slip for Punjab Educator. Add your comments if you have any queries or questions regarding what you are finding online.