Complete information for Punjab Health Foundation PHF Loan Form 2023 application, how to apply date, and advertisement. PHF is offering an interest-free loan for building the new private clinic and to renovate the existing clinics all over the province of Punjab. If you are planning for your clinic then the government will not support you with a 5 lakh up to 50 Lakh interest-free loan with a very easy return policy. According to the advertisement, this department has delivered 1.75 Billion among 1600 health professionals. This time again the officials have decided to grant the loan within 45 days and more than 8000 new clinics will be initiated in the province.
Punjab Health Foundation is a public department that is specially designed by the government of Punjab Pakistan. Its department offering an easy loan for the different health programs in the province. This time the organization is inviting application form for the PHF loan for clinics in Punjab. You have to read this entire page and make sure you are ready to apply for it. We are also telling you about how to apply and further terms and conditions. Just continue reading this article for taking any further updates.
Punjab Health Foundation PHF Loan Form 2023 Application, How to Apply Date
MBBS, BDS, Hakeem, Homeopathic, and all the medical relating individuals get ready to start their clinic in their areas. Punjab Health Foundation PHF offers interest-free loans for clinics. The government is offering a 5 lakh to 50 lakh interest-free loan. Who can apply and how to apply is all procedure written on this page. Just keep on reading this article for taking further details which are very necessary for the individuals.
Faculties to Apply Loan Limit
Hakeem for Davakhana (5 lakh)
Psychiatrist (25 lakh)
Gainey Clinics (OBS) 35 lakh
Homeopathic Doctor Clinic (5 lakh)
Diabetes Clinic (25 lakh)
Ophthalmologist (35 lakh)
Lady Health Worker and Midwife (5 lakh)
Fertility Clinic (25 lakh)
Family Physician/ general physician, and different department's doctor (35 lakh)
Pharmacy/ pharmacist (25 lakh)
Dental Clinic (35 lakh)
Medical Laboratory (50 lakh)
Dermatologist/ Cosmetologist Clinic (35 lakh)
Blood bank (50 lakh)
Pediatrics/ Schools medical screening clinic (35 lakh)
Who Can Apply?
One who is having a degree from the registered department and having a license in any of the above categories of work. Further, those who are a permanent resident of Pakistan. Dual Nationality Holders will not be preferably allowed to apply. And those who are involved in any police case or illegal activity will also be rejected to proceed with the PHF loan for the clinic.
How to Apply?
The application procedure for the Punjab Health Foundation PHF loan for the clinic is written down. It is very easy and simple as you have to click on the application form below. You will click on that button and there you will fill up the application form and upload the scanned documents. There you will get register online and your username and password will be uploaded here.
After that, you will log in to your account to fill the affidavit and to proceed with the agreements. So there on that page different types of loans will be classified according to their category of work and types of limit the loan. You will get different options to return the taken amount as a loan return.
Remember that the official team will visit your place, they will discuss your plan of working with you, and after complete verification, they will allow for the loan.
[button color="blue" size="medium" link="https://phf-loaning.punjab.gov.pk/" icon="" target="true"]Apply Online[/button]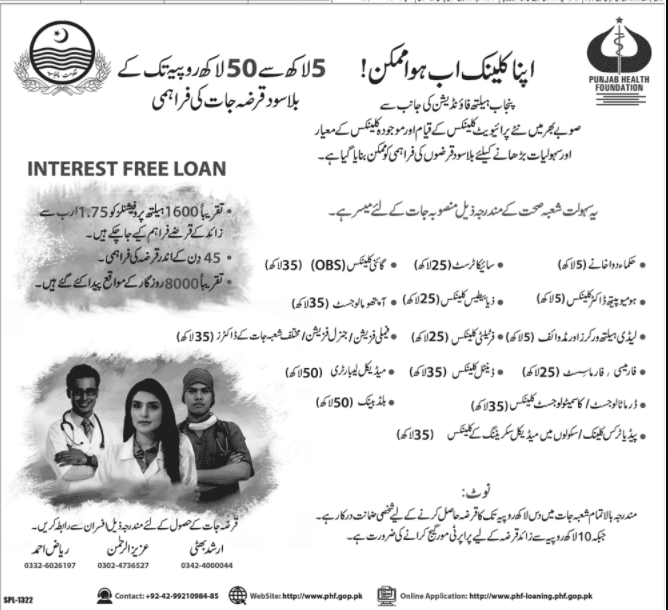 Hence the complete details about Punjab Health Foundation PHF Loan Form 2023 application, how to apply date are written on this page. I hope you are all now well aware of these intakes. You have to stay in tune with this page because as soon as the further updates are announced will be available here on this page.