There are few jobs announced by the Punjab Masstransit Authority Lahore and this job opportunity was announced by the officials on January 26th, 2023. All those applicants who want to apply for the Mass transit Authority Jobs should require their original certificate when they come for interview. Interview time will be fixed so it is compulsory on every candidate that they all should come on time as given. All those candidates who reached late during the interview or submit their application form after the due date will not be entertain by the company in any case. Opportunities will be given on equal bases so there is no matter that you are male or female. All those candidates who want to apply for the driver job should apply and their application will be on plain paper.
Punjab Masstransit Authority Lahore Jobs 2023 Apply Online apply.pma.punjab.gov.pk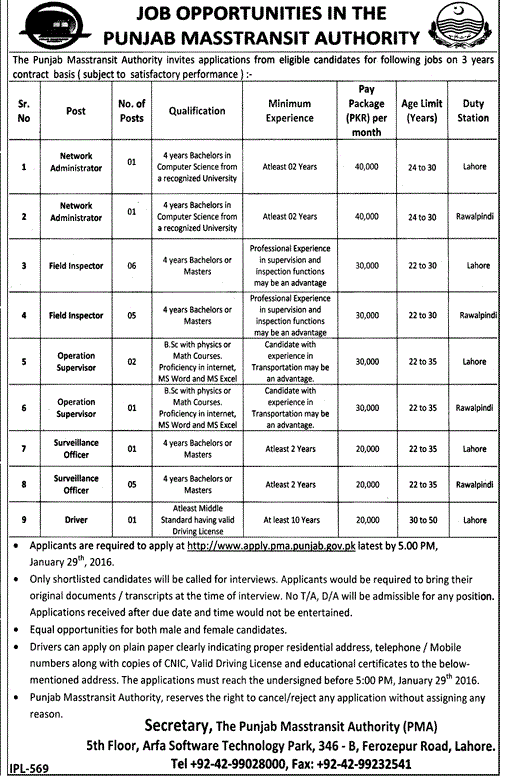 Driver can apply on plain paper clear indicated proper residential address, telephone number and mobile number attach with copy of CNIC and also bring their driving license and education certificates to the belong mentioned address. The applications must post with undersigned before 5:00 pm, January 29, 2023.punjab masstransit authority. All the application form can check online and download application form.
This job position is different two network administrator area; other is field inspector, operation supervisor, surveillance officer, and driver. These all jobs qualifications are required bachelor in computer science & B.Sc physics or math courses. These all jobs last date is 29,January 2023 and driver can apply on plain page with proper residential address and telephone number, mobile number attach with copy of national identification card, also attach the driving license and education certificates to the below mentioned address. This Opportunity is equal for both male and female students. Punjab masstransit authority is reserves to right the cancel and reject any application complicated received then employer cancels this form without any reason. Apply online with this official website click www.pakijobs.pk .after interview call required all the original documents with experience certificates.