Punjab University Short Computer Courses 2023 Admission Fee, Form available of this official website. PUCIT Punjab University Allama Iqbal old campus Lahore introduces short courses in software and hardware. In this campus candidates will study in different short courses. Professional training courses of different hardware and software certification announce. In these short courses different criteria held in this professional training. Punjab university collage of information technology renewed for human development. Pakistan generally and Lahore specifically have large number of graduates with no job. Therefore department announces such courses for easy speedy money. After getting a graduate degree a graduate feels about earning sources. To get speedy earning him usually involves ingresses activities. Punjab University Short Computer Courses 2023 are legal way to earn money in minimum time. That's why such institute introduce for these courses to help graduate and other students.
PUCIT courses in human resource development define different it computer science course. Computer basic and windows XP course student gain experience in overall knowledge of handle and work in computer. MS office course help students how to work as professional in writing. Web & graphic designing course for those students who have interest in different designs and painting, there course fee mentioned in 5000 for 10 weeks.
Punjab University Short Computer Courses 2023 Admission Fee, Form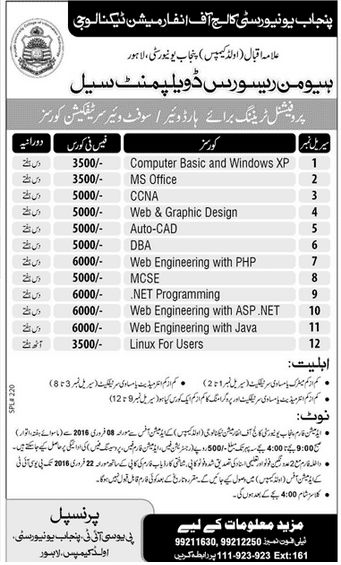 Punjab University College of information technology have auto-cad and DBA course in different working style. In these programs there are 3 similar courses available in web engineering with ASP. Net, Java, PHP. Net programming and MCSE course fee in 6000 for 10 week. Linux for user's course fee is minimum and this course time period is short of 8 week. These all courses required education matric or intermediate as well as in such courses required certificate diploma for the Punjab University Short Computer Courses 2023 Admission Fee, Form. Registration will start 09 am to 04 pm in 8 to 22 February 2023 with 500 Rs fee.