Here we are sharing Punjab university sports trials 2023 schedule admission dates form. University of The Punjab sport-based admission 2023-21 selection trails schedule is now released on the official website. This is the number one educational institution in Punjab Pakistan. Punjab University admission criteria are based on different categories including merit-based, sports-based, and minorities based. Each category has its specified quota and only those students will be entertained for each quota who will pass its entry test. This time we are talking about the sports-based admission that is why we are giving you the PU sports admission trial scheduled dates. You have to stay in tune with this page so that you can be entertained with the updated information.
On this page, you will get PU MA, MSC, BBA, BS HONS, BCOM, MCOM, BFA, and MFA program admission 2023-21 Sport base trails schedule. If you are national level Medalist players then yes you can get this trail opportunity. If you will clear Punjab University Sports Trials 2023 then yes you can easily get admission PU different Punjab base campuses named Lahore, Gujranwala, and Jhelum. After taking the trials, officials will prepare the merit list for the top students. Only top listed candidates will be filled into the vacant seats.
Punjab University Sports Trials 2023 Schedule Admission Dates Form
Here are sharing the details about Punjab University Sports trials schedule. If you have submitted your admission online form, here we are guiding you about what you will have to do now. Remember that only those candidates will enrolled who will pass the trials. Those who qualify the trials will be enlisted into the merit list. Others will be rejected to proceed for any further enrollment in PU sports based admissions 2023-2021 session fall and spring.
Offered Programs Names:
Officials are inviting admissions for the B.Sc.(Hons) / BS / B.Ed. / BBIT / BFA / B.Com / BBA / MA / M.Ed / M.Sc. / MFA / MIM Morning & Self-Supporting (Afternoon / Replica / Evening) Programs Academic Year 2023-21. If you want to get enrolled in any of the following programs then you must have to pass the PU sports trials for admissions.
PU Sports:
Now students can apply on any of the following sport for the sports-based admission program.
Swimming
Gymnastic
Basketball
Table Tennis
Hockey
Football
Weight lifting
Boxing
Squash
Tennis
Cricket
Karate
Volleyball
Kabaddi
Badminton
Bodybuilding
Archery
PU Sports Trials Schedule:
All those students who want to take admission in Punjab University on sports-based have to follow the schedule. The following sports-based trials are necessary for the students to go through for the sports trials. If a candidate has passed in a test he will only be entertained otherwise he will be rejected to proceed.
1% of seats have been reserved for admission on a Sports basis. Only those students/candidates are eligible to apply for admission on sports basis who have participated in Sports Trials and their names have been recommended by the Sports Based Admission Committee of the University of Punjab. No other candidates will be considered for admission on a sports basis.
Only District, Board, Inter-University & National medalist players will be preferred to appear for trials.
Every candidate is required to send Game related skills video of sixty seconds on contact No. 0321-7325772 via Whatsapp along with Name and Form number from 10-09-2020 to 05-10-2020. Otherwise, he/she will not be permitted to participate in the trials. On the bases of these Videos shortlisted candidates would be called for trial and the list of these eligible shortlisted candidates will be available / uploaded on the Punjab University Official Website on Monday, 19th of October, 2023. Only those candidates will be eligible for a trial whose name is available in the shortlist.
[button color="blue" size="medium" link="https://pu.edu.pk/home/admission_notice/362″ icon="" target="true"]For More Details Click Here[/button]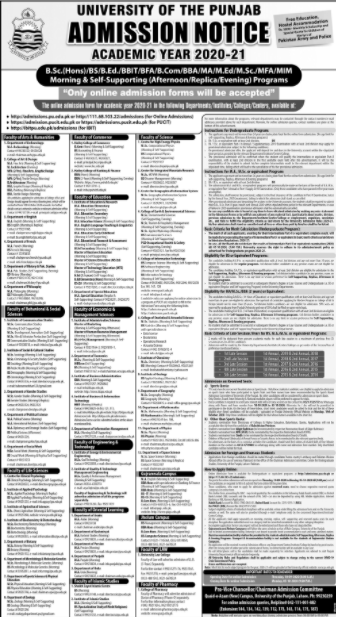 So I have written down the complete information relating to the Punjab University Sports Trials 2023 Schedule Admission Dates Form. I hope you all are well aware of these details, But in case of taking any further updates or queries, you can stay on this page. We will update you for any further updates through the commenting section below and that will be very important information for you.