Saudi Arabia Jobs For Pakistani 2023 Newspaper Advertisement, How to Apply, Career opportunities are available in Saudi Arabia to the interested and suitable candidates in 2023  in many different kinds of fields. The principal of the department which named as SRACO required urgently candidates for the different announced posts or positions. These announced posts or positions include civil engineer, safety engineer, auto electrician, AC technician, electrical helper, mechanical helper, pump mechanic, store keeper and many others. The complete number of required posts with complete info are mentioned in the below given job advertisement which is mentioned in this page.
The department is looking to hire the energetic, well educated, well experienced, well disciplined and hard working candidates for all these required positions.
Saudi Arabia Jobs For Pakistani 2023 Newspaper Advertisement, How to Apply
Eligibility criteria:
Candidates who are interested and want to apply application for job must have their relevant qualification certificates that are required for their desired post.
Candidates have their certificates or degrees from registered institute.
Candidates also have some experience in their field and experience later would also be considerable.
The candidates who are not having the relevant certificates or degrees or work experience of their desired position they should not apply application for job.
In such case they would not be acceptable and their applications may be rejected.
How to apply for Saudi Arabia Jobs for Pakistani 2023:
All those candidates who are really interested and want to apply for job will come along with their complete original documents on the office.
Candidates will come to the office which address is mentioned below in this page.
The department is providing residential opportunities to the candidates.
Candidates will also get transport facilities and medical facilities by the department.
Candidates will work in their field for 8 hours only.
All the conditions will be applied on the candidates by the Saudi labor law.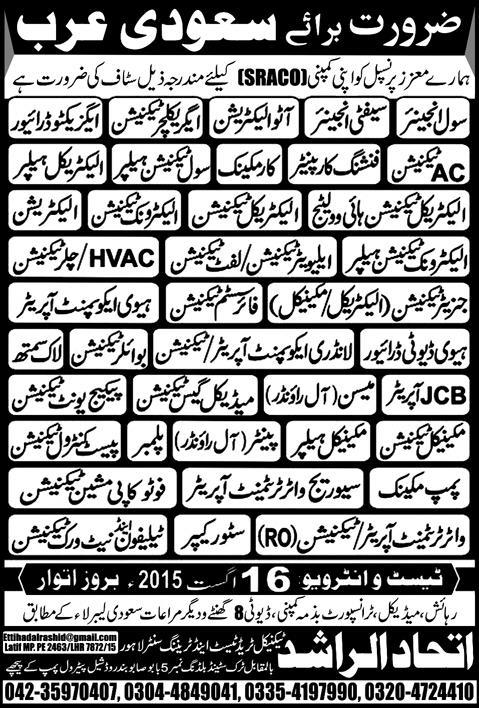 Last date for test or interview:
The last date for test or interview is suggested by the department for Saudi Arabia Jobs For Pakistani 2023 Newspaper Advertisement, How to Apply which is ——.
Address:
Applicants will come for applying or for test or interview to the office, technical trade test and training centre, Lahore, near truck stand building no. 5, babu sabu band road, behind petrol pump.