State bank of Pakistan SBP EATS jobs 2023 economic analyst training IBP application form will announce on 22nd February. This job is totally for those candidates which have did studied related business administration. In this job all candidates apply for training which are interested about their future related tasks. State bank of Pakistan SBP announce this training scheme to enhance the student. Training packages and other scheme has build for the purpose of to develop HR department. These all trainers and candidates' works like og2 designation, and they take all grades which is similar to og2 rank. In this training program many of students which are related to unemployment category, they all are get chance to demonstrate their ability for further opportunities. For these training scheme maintains slandered state bank of Pakistan take some test and required different material. There are all the information related this training scheme available of this official website.
SBP EATS Jobs 2023 Economics Analyst Training IBP Application Form Download
Eligibility criteria:
All the candidates who are appling this training scheme of state bank Pakistan, they should have education for those institute in which must available percentage and CGPA criteria. Applicant must have the 16 years of education in economics with required CGPA in 4.00 minimum 2.50. In CGPA 5.00 the requirement are 3.50. Those students which have intercontinental education, they must attest their documents in HEC higher education commission. All those candidates who will apply this training scheme they have maximum age of 26 years. 03 years of relaxation give SBP for tribal area of candidates and 05 years SBP employ quota.
Exams criteria:Â 
Candidates download application form with this official website. online Application form fill this application form clearly after read this form. For the given IBP test eligible candidates should have Chillan form of UBL/HBL and their post fee 750 Rs.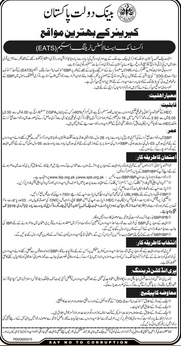 Selection criteria:
IBP/SBP contact short listed candidates who pass the exams for further procedure in different tribal and modernizes areas.
Training criteria:
All the candidates who will do the requirements of the procedure of IBP, SBP will give further theoretical training to candidates.
Salary packages:
Eligible candidates will work equally OG-2.
Medical facility & other benefits.