Here you can apply for Shalamar Nursing College Lahore admission 2023 apply online form last date and advertisement is available on this page. If you are seeking a nursing career then you are invited to submit your admission form before till the last date of submission of admission form. On this page we are telling you about the last date, test date, apply procedure, and of course the eligibility criteria. The eligibility criteria are very important for all the students to qualify for this admission. In the case of any candidate who will be a failure to meet the merit will be rejected and will not be entertained. Candidates will be going through an SNC admission 2023 entry test. This entry test will decide your merit list. Only merit meeting students will be entertained with this admission to SNC Lahore for nursing.
Shalamar Nursing College has become the best nursing institute in this area. It is affiliated with the Pakistan Nursing Council (PNC) and also attached to the Shalamar Hospital. In this hospital, nurses get pieces of training for what they have studied in their academic year. Furthermore, the degree you received from this college is also acceptable from any institute for further career. You have a very good opportunity to start your nursing profession with the highly remarked nursing college in your area.
Shalamar Nursing College Lahore Admission 2023 Apply Online Form
Candidates are invited to apply for the Shalamar Nursing College Lahore BS nursing, post-RN BSN, and a diploma in nursing admission. The last date, eligibility criteria, and how to apply procedure is all written on this post. You have to make sure that either the last date is pending or you are applying through a proper channel set by the officials.
Programs To Apply:
BSc Nursing (4 years program)
Post RN BSN (2 years)
Diploma in ICU/ CCU
Post Basic Specialization in pediatrics
Trauma and Emergency care Diploma
Eligibility Criteria:
The complete eligibility criteria for Shalimar nursing college Lahore admission are written in the advertisement. Each program is having its different eligibility which you have to read before applying. Only females can apply after basic nursing diploma after matric such as midwife, clinical nursing, or general nursing. Further details are mentioned below which you can read on this page.
FSC Pre-medical with 50% marks minimum (physics, chemistry& Bio as Compulsory)
Age Limit: 17-25 years
Gender Ratio: Male/ Female
Domicile: Open
SNC Lahore Nursing Admission Procedure
If you are meeting with the eligibility then you are ready to apply for online SNC Lahore nursing admission. Female candidates can download the prospectus with admission form online. You have to follow the procedure steps by steps as mentioned below.
Click on the Shalamar nursing college Lahore admission apply online link below
Now you will have to sign-up for a new candidate and get a username and password
After this, you will have to fill up the online SNC admission form by your username and password
Submit the form online and check your email address and mobile SMS alerts for further verifications of your admission
Never get late from the last date 13th November till 4 PM
Candidates will be called for entry test dated 17th November at 9 AM at SNC campus Shalamar link road Lahore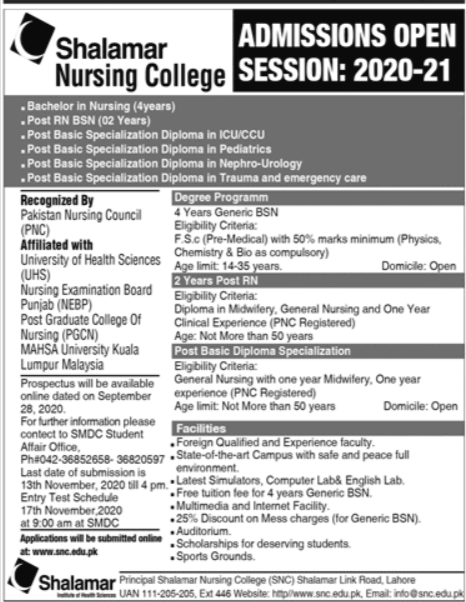 All the details about Shalamar Nursing College Lahore admission 2023 apply online form submission last date and the entry test date is here. You have obtained these details for BSc nursing, Post RN BSc nursing, diploma program. Never get late in the submission of your admission form online. You are also required to pass the entry test that is also mandatory for the students to qualify for this admission otherwise you will be rejected to proceed.