Science, Technology, Engineering, and Mathematics STEM Pakistan Olympiad 2023 online registration last date for International Science Olympiads (ISOs) has begun in February 2023. This is an annually organized international online contest that students attempt in prescribed subjects. The available subjects for taking tests are Physics, Chemistry, Biology, and Mathematics. The winners are awarded precious gifts which include the cash prize and the scholarships to encourage them for their studies. But there are some eligibility criteria and terms and conditions which everyone has to keep under view. If you will see you are eligible, then you have to apply as per the following procedure which is very important for each candidate.
STEM careers program is organized by the HEC and PIEAS Pakistan to encourage the youth in science, technology, engineering, and mathematics. So the STEM brings an annual contest for students which is called The International Science Olympiad (ISOs) since 2003. It is because of the international contest that is why it is called the STEM Olympiad Pakistan. We are suggesting to all the students to read this article and apply for it as per the written instructions set by the officials.
STEM Pakistan Olympiad 2023 Online Registration Last Date
Online registration has begun for STEM Pakistan Olympiad 2023 International Science Olympiad (ISOs) by the Higher Education Commission (HEC) and Pakistan Institute of Engineering and Applied Sciences (PIEAS). The last date for registration is 30th April 2023 and the STEM Olympiad test date August 2023. For further about its eligibility criteria and how to apply the procedure you just need to keep on reading this article for taking the further information which is released by the officials.
Subjects For the Contest:
Biology (International Biology Olympiad IBO) in Armenia
Physics (International Physics Olympiad IPHO) in Belarus
Mathematical (International Mathematical Olympiad IMO) in Norway
Chemistry (International Chemistry Olympiad ICHO) In China
STEM Career Program Eligibility Criteria:
It is to be informed that you all are mandatory to meet the STEM career program eligibility criteria. The complete eligibility criteria are written below.
Current students of nine (9th) and ten (10th) as well as eleven (11th) class as well as the O-Level/ A-Level-1
Students must be acquired a minimum of 60% marks in their previous class for the subjects Physics, Chemistry, Biology, and Mathematics
The Age of a candidate must be less than 20 years till the date of 30 June 2023.
Students in FSc pre 2 and A-Levels-2 are not eligible for STEM Olympiad Pakistan.
STEM Careers Important Dates:
| | |
| --- | --- |
| Last Date | 30th April 2023 |
| Test Date | August 2023 |
STEM Pakistan Olympiad Registration Procedure:
All eligible candidates are required to do the following steps for the STEM Pakistan Olympiad registration procedure. But before that, you must make sure you are eligible for this program as per the official's instructions.
Click on the link below for STEM Pakistan Olympiad 2023 registration
Print challan slip and deposit RS. 800/- to the bank and get the dopiest the slip
Scan the required documents and upload them online
After receiving the forms officials will prepare the admit card for the eligible candidates
Print out the admittance card and attempt the entry test as per the details.
[button color="blue" size="medium" link="https://stem.edu.pk/registration" icon="" target="true"]STEM Olympiad Registration[/button]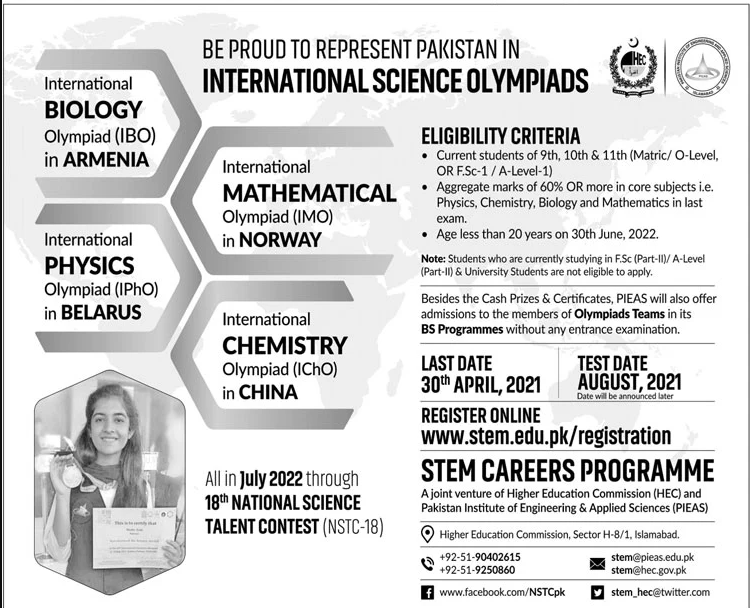 Here I have written all about STEM Pakistan Olympiad 2023 online registration last date is all written on this page. You have to stay in tune with this page and we will upload all the details on this page. You can leave comments about any update or query in the following commenting section. We will reply to you with the FAQs and suggest that you must never get late from the last date.