Sui Gas Leakage Complaint Number SNGPL Helpline Lahore, Karachi, Islamabad is written in this post.  If you are living in Lahore, Islamabad, Multan, Karachi, and any other city or village then the helpline number is available for  Gas Leakage complaint registration. This number is for all Pakistani people. This is a reality due to the Sui Gas Leakage large numbers of incidents are happening in Pakistan's different areas. Being responsible Pakistan nationals we have to need read all information regarding Sui Gas Leakage Complaint registration through the helpline 1199 number. Further, all details will update for your query answer so read it.
Sui Gas Complaint Number For Registration Complaint
How do i complain to Sui gas:
If you are facing Gas leakage at home, workplace, commercial place, or any other spot then this page is giving valuable information for the Sui Gas Leakage control procedure.
If you are facing a Sui Gas Leakage issue then dial 1199
SNGPL 1199 Customer care person will note your number, address, Phone number, and Gas Bill ID for complaint registration for Sui gas leakage.
If your gas pipe is broken and there is more leakage then off your Sui Gas main line.
After the  Leakage  SNGPL Helpline procedure, your area Sui Gas officer employ will visit the leakage place and sort out this issue.
Cities:
On this page, we mentioned Lahore, Karachi, and Islamabad city names due to limited space. Otherwise, the 1199 Sui Gas Leakage  Helpline number is giving service to all of Pakistan.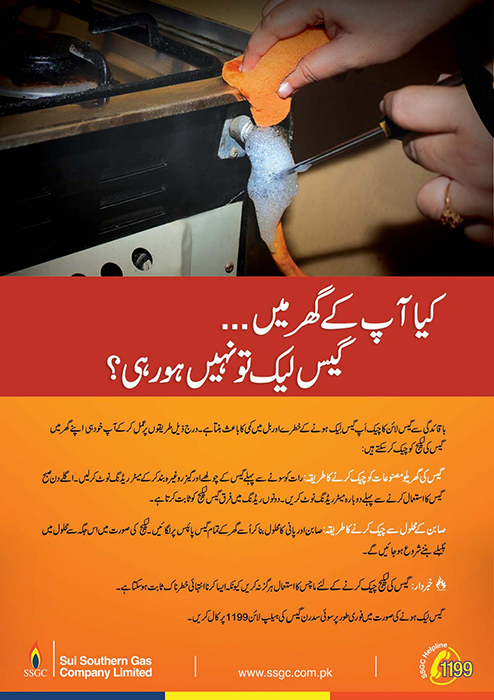 You can also visit the Sui gas bill online check
The time period for Sui Gas Leakage Complaint solve method delay:
Sui Gas Complaint Number is providing the best service. According to my personal experience, the 1199 complaint registration cell is giving the best follow-up service regarding your complaint. But this is a fact Sui Gas officers employs is using delay tactics to earn money illegally. If you are facing any delay issues then call them again and again on the 1199 number because, within a few weeks, your complaint will solve by the pressure of the complaint cell management.