Get The Punjab School admission 2023 online form, test syllabus, last date, fee for nursery to 8th class. They are inviting admission forms for their Lahore campuses, Sargodha campuses, Gujranwala Campus, and their sub-branches. If you want your child to get enrolled in this school then you have to read this article and must apply before the last date of submission of the admission form. If anyone who will apply after the last date will be rejected to proceed for any further intake. Besides the eligibility and last date, there will be an entry test will be taken too.
The Punjab School is the oldest and one of the most successful schooling networks since the 80s. They have designed a purpose build campus where a child learns the real rules of life to spend in their life goals. This school grant admissions to the Nursery to eight classes. While the students have to meet the eligibility criteria and an entry test is also necessary for all the students. Just be in tune with this page for taking the latest updates which we are sharing with you right through this page below to this passage.
The Punjab School Admission 2023 Online Form, Test Syllabus, Last Date, Fee
Apply online through this page for The Punjab School Admission for Nursery to 8th class. You just need to stay in tune with this page for taking further details. We are telling you about the eligibility criteria which is very important necessary. Remember that if anyone who will fail in this entry test will be rejected to enrollment.
Admission Classes To Apply:
Nursery
Prep
Class 1 to 8 (For Urdu and English Medium as well as the Hafiz e Quran)
Eligibility Criteria:
It is necessary for the students to meet the eligibility criteria for the Punjab School Admission.
For Nursery admission, a child must be at least 3 years of age or above who can speak
Prep class students will be admitted at the age of four or five years maximum
Admission in other classes 1 to 8 are depending on the entry test based on English, Urdu, Islamiat, and Math questions (might be written or oral)
Students who are mentally and physically fit
Admission Procedure:
The admission procedure is very easy and simple as you just need to do the following steps
Visit your nearest The Punjab School branch
Bring your child along with you
Get the admission form and fill it
Attempt the entry test
One who passes the entry test is elected for granting admission to this school.
The Punjab School Admission Entry Test Syllabus 2023: Click Here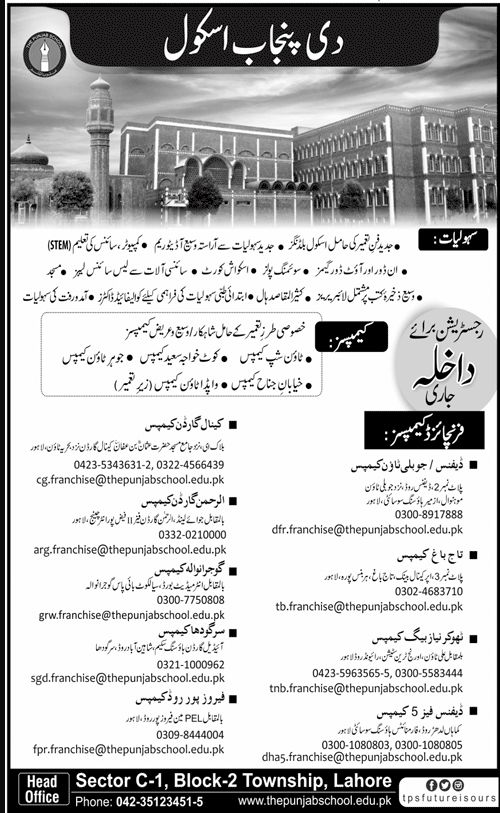 Complete information regarding The Punjab School admission 2023 online form, test syllabus, last date, fee structure is all here. We hope that you have taken all the details for which you were searching online for it. But in case of taking any further assistance or information, you can leave comments in the following commenting section. We wish you all the best in your studies and career.