Here you can download the online UET Peshawar entry test sample paper, past papers, syllabus, and paper pattern in PDF format. This is a combined engineering test in KPK arranged by ETEA and conducted by UET Peshawar. Recently the authorities have released the ETEA Engineering Test Date 2023. For taking admission in BSc engineering to any engineering colleges in Peshawar, it is necessary to pass this test. While those students who are eligible, but failed this test will be treated as ineligible. And through this condition, you can measure the value of the ETEA engineering test. In this way, we bringing the UET Peshawar entry test past papers and the syllabus. This test pattern will lead you for the best preparation and to chase the cent percent marks for meeting the current merit of the year. Continue reading this article and take more details which are very important for you.
Online registration of ETEA engineering test has started in the month of July. And lastly, it was scheduled to conduct the test in August but due to the coronavirus lockdown, now this test date has rescheduled. And now combined engineering tests will be held in September in KPK province. There are very few days are left for the preparation of this test and our UET Peshawar entry test syllabus pattern will assist you in the best way.
UET Peshawar Entry Test Sample Paper, Past Papers, Syllabus, Pattern
The Education Testing and Evaluation Agency (ETEA) is going to conduct the engineering test on 27th September 2023. UET Peshawar will arrange this test and all the eligible candidates are invited to apply. This page is prepared with the UET Peshawar entry test sample paper which you can download from this page in PDF format. This preparation material is very important and I suggest you that you must download and prepare for this important test.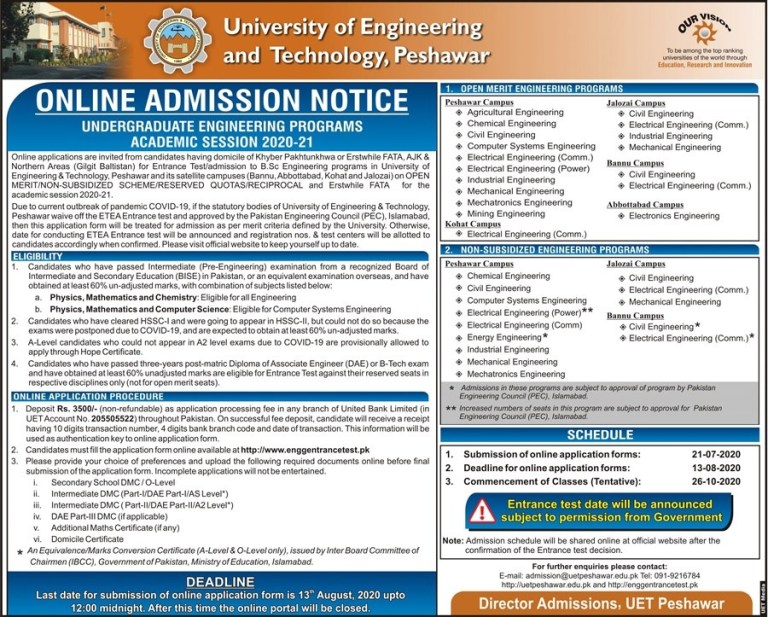 UET Peshawar Engineering Test Sample Paper
Now in the following showing is UET Peshawar engineering test sample paper in PDF format. These sample papers are available for the fresh candidates and I suggest you that you must also prepare your textbooks. Just stay in tune with this page and have PDF format on your PC or mobile phone.
[button color="blue" size="medium" link="https://enggentrancetest.pk/uet/pages/form/" icon="" target="true"]Online Registration[/button]
Students' UET Peshawar entry test is based on Objective type questions. If you want to get high marks in the UET Peshawar engineering programs entry test then understand the pattern of the Entry test. Through UET Peshawar Entry Test Sample Paper all types of entry test important questions can easily understand by students.
Multiple choice questions can easily solve if related subject all topic concept is ready in students mind. Candidates overwriting, cutting will not allow in the UET Peshawar Entry Test exam. if you will attempt this type of mistake then your question will give zero marks either answer is correct.