Ufone Telecommunication Company is the most favorite telecom company working in Pakistan. And offering many Ufone New Sim offers 2023. There are many telecom companies providing services but zong services and packages are also great and the price is reasonable. Ufone provides many packages and extra services for Pakistan mobile users. Ufone is providing many Call, SMS, and Internet high-speed internet packages including Daily Light, Daily Heavy, Special Daily, Mega Internet Bucket, 3 Day Bucket, Super Internet, Social Monthly, Sim lagao offer, New sim double offer, Nai sim offer, Power Hour, Asli Chappar fair offer, Daily Pakistan Offer, Weekly Pakistan Offer, Monthly Pakistan Offer, Super Card Plus, Super Card, Mini Super Card, Super Recharge Offer, Super minutes, Super internet and many others.
Ufone New Sim offer 2023
Ufone Telecom Company's mobile Sim signals strength is very high and works in Pakistan border areas and low connectivity areas. Pakistani Mobile users Ufone provides in Pakistan Ufone to all Landlines and Ufone free call service at any time for all Ufone users in Pakistan. In the below image, you will get the details about different Ufone new sim details
Name
Price
Data
Details
New Sim Offer
Rs.200
Data: 6 GB (1.5 GB FB + 1.5 GB WA),
U-U Minutes: 1500,
Off-Net Minutes: 20, SMS: 500
Subscription Code:

*1000#

Validity

7 days

Classic Offer
Rs.250
4GB Internet (1GB Facebook
and 1GB WhatsApp)
Subscription Code:

*1000#

Super Card Plus
Rs.720
6 GB, 5GB Facebook,
2GB WhatsApp, U-U Mins 4000,
Off-Net Mins: 450, SMS 8400
Validity 

30 days

Super Card Max
Rs. 749
14 GB, 5GB Facebook,
2GB WhatsApp, U-U Mins 7000,
Off-Net Mins: 700, SMS 9000
Validity

30 days

Super Card Gold
Rs.1099
48 GB
U-U Mins: 10500
Off-Net Mins: 1200, SMS 10000,
Validity

30 days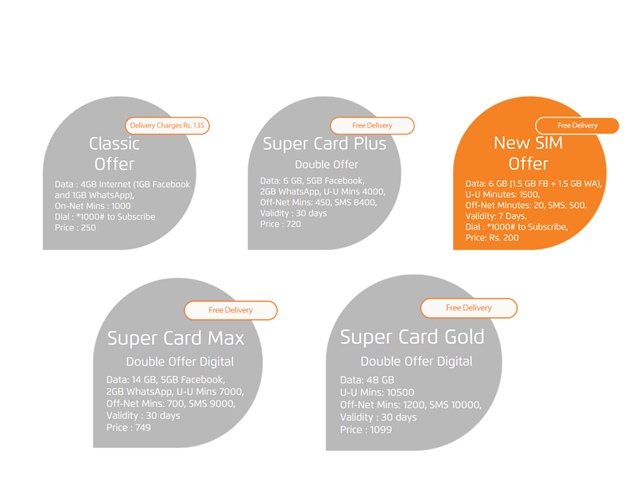 Ufone New Sim offer:
You can dial *1000# to get new sim offers. Ufone New Sim Offer 2023 is related to all detail of the activation code, Charges, Validity, and related all detail available on this page. Readers you will read all information through this page I will provide Ufone with all packages and offers all detail on this page for Ufone valuables customers.