Here we go for WAPDA Cadet College Tarbela 8th class admission form 2023 last date and entry test details. Intake will be made for the 2023 to 2023 session where only eligible candidates will be entertained as per the official's standards. If you want your child to join Pak Army then here is a good chance for you to assign your seat by completing the admission procedure. On this page, I have written the complete step by step procedure as well as the eligibility requirement necessary for you to complete this intake. Here you are informed that after appointing your child, officials will boarding them till their session completion for which they will charge their fees and will teat equally to all the students. And along with studies your child will also learn the army manners be meet the real standards to become an Army officer in the future.
WAPDA Cadet College Tarbela 8th Class Admission Form 2023 Last Date
Get ready to apply for Wapda Cadet College Tarbela admission 2023 in 8th class entry test schedule which is written down. Students will have to read this post and apply as per the official's procedure set for this special intake.
Eligibility Criteria:
The eligibility criteria about who can apply are necessary for all applicants to achieve 8th class admission in WAPDA cadet college Tarbela.
The student must have pass 7th class or study in 8th class can also apply
Age should between 12 to 14 years till 1st April 2023
Candidate must be physically and mentally fit
Students who will pass the written and IQ based entry test
Your child must be ready and acceptable for joining the cadet college study measurements
Admission Procedure:
If you are meeting the eligibility criteria, then you are welcome for the WAPDA cadet college Tarbela admission. You will follow the below procedure
Buy prospectus (admission from inside) from the college campus in Rs 1600
You can also avail admission form by post in Rs 1700/- depositing at Bank Al-Falah Ghazi campus (challan form is available in all branches of Bank Al-Falah)
After this, you will fill-up the form with your information and attach required documents
Submit this form at the WAPDA cade college Tarbela before till the last date
Attempt the entry test and IQ based test on the following date schedule
Written Entry Test

(Tarbela, Lahore, Multan, Sialkot, DI Khan, Quetta)

Saturday 24th October 2023
Interview and IQ test
Between November and December 2023
Classes Will Start From
April 2023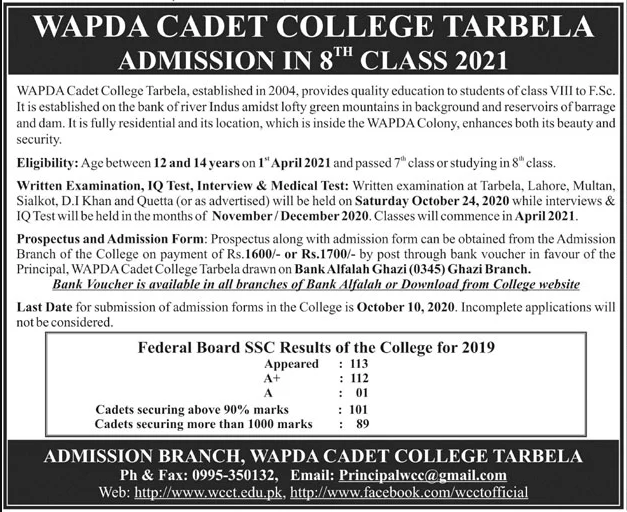 This information about WAPDA Cadet College Tarbela 8th Class Admission Form 2023 Last Date Written and IQ based interview tests are all here. You are advised to apply before till the last date otherwise your intake will be stopped and you will miss this chance. You can further clarify your questions about this admission in the following commenting section.