National accountability bureau Balochistan is announced on 1st febuary, 2023. Anyone can apply this job to search application for the post of national accountability bureau Balochistan. Some circumstances requirements are people are must be related to Pakistan people. Before apply this post bring their original documents and education certificates. All the education documents are must be attested in HEC higher education center. A bachelor degree attestation criterion is dual organization for the purpose of some problems. There are 4 different posts in one junior expert post. In all different posts there criteria in same and position are 1 for all 4 positions. There are required experience skills is in 10 of proper certified with their qualification, but these all 4 position of junior expert work different to maintain. Junior expert (Lander inexpert, procurement expert, income tax expert, security and intelligence expert) in this post required minimum second division. This entire position candidate's age limit is required maximum 65 years.
NAB Balochistan Junior Expert Jobs 2023 January Application Form Download Advertisement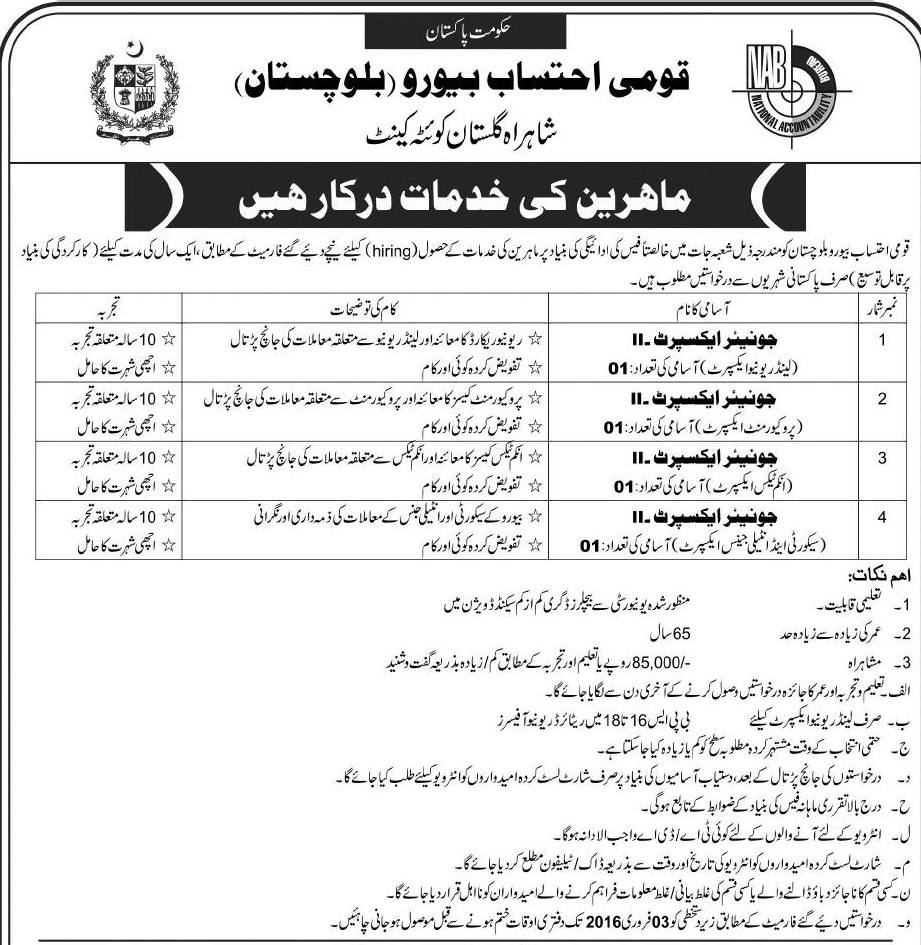 The positions of NAB Balochistan Junior expert job salary is maximum 85000.after apply this job only short candidates will approved for further interview. All the application is accepted in last date of 03 February 2023.
NAB Balochistan junior expert jobs are available for this official website. Application form download or safe and fill all the data which is required for position of apply. All candidates should know about the way of fill this form therefore application form will not be accepted. Online documents will not be accepting, candidates would prefer apply this post through post office. All the details are available in this post and also available application form. Interview result dates and test result always be there of this official website pakijobs.pk. for this all dates will be available for the candidates to helpful such information.