The University of Engineering and Technology UET Bannu engineering merit list 2023 1st, 2nd, 3rd will be uploaded here. According to the officials, the lists will be issued on the given schedule for 1st, 2nd, 3rd, 4th,  and 5th. These lists will be uploaded for the non-subsidized and reciprocal seats. If you also have submitted your admission form and also have appeared in the ETEA engineering test, then you are eligible for the admission. All those whose names will exist in the merit list will be required to pay the fees within the due date and time. In case of any candidate who is having good marks in FSc result but he has not qualified in this entry test will be rejected to proceed for UET Bannu BSc engineering admission 2023-2021.
All affiliated engineering colleges of KPK will follow the given schedule for engineering admissions. All those colleges affiliated with UET Bannu will have to attempt the ETEA engineering test. After passing this test, candidates will be rescheduled for the 1st, 2nd, 3rd, 4th, and 5th merit list. Just keep on reading this article to get the further details which are very necessary for the students to read.
UET Bannu Engineering Merit List 2023 1st, 2nd, 3rd
The schedule for UET Bannu engineering merit list 2023 of BSc engineering admissions will be declared as per the schedule givenbelow. If you have attempted the ETEA engineering test then just stay in tune with this page to get the further details. Keep on reading to get the details that are necessary for you to get qualify in engineering careers ahead.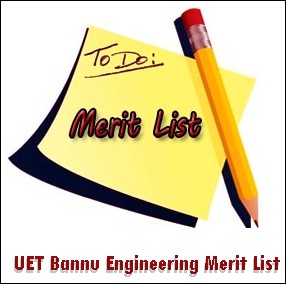 When UET Bannu Merit List Coming?
As I have written in the following schedule that the UET Bannu merit list 2023 for BSc engineering admission will be updated here. You have to stay in tune with us and we will update the official link below where you will be required to check it frequently. Education Testing and Evaluation Agency (ETEA) will conduct the Engineering Colleges Admission Test (ECAT). So you have to keep on reading this article click on the link below for accessing the official page.
UET Bannu BSc Engineering Schedule
1
Display of 1st Merit Lists (Open, Non-Sub, Reciprocal, FATA)
01-10-2020 Thu
2
Admission/interview 1st Open Merit
5-10-2020 to 7-10-2020
3
Display of 2nd Open Merit List
8-10-2020 Thu
4
Admission/Interviews 2nd Open Merit
9-10-2020 to 10-10-2020
5
Display of 3rd Open Merit List
11-10-2020 Su
6
Admission/Interviews 1st Non-subsidized
12-10-2020 to 13-10-2020
7
Admission/Interviews (3rd Open Merit)

Display of 2nd Non-Subsidized Merit

14-10-2020 Wed
8
Admission Interviews 2nd Non-Subsidized List
15-10-2020 to 17-10-2020
9
Display of 4th Open Merit
17-10-2020 Sat
10
Display of 3rd Non-Subsidized Merit
18-10-2020 Sun
11
Wards of UET Employees Admission Interview
18-10-2020 Sun
12
Admission Interviews 4th Open Merit List
19-10-2020 Mon
13
Display of 5th Open Merit
20-10-2020 Tue
14
Admission Interviews Stl Non-Subsidized List
20-10-2020 to 21-10-2020
15
Joint Admission Committee Meeting for RECIPROCAL admission
22-10-2020 Thu
16
Admission Interviews 5th Open Merit

Display of 4       Non-Subsidized List

23-10-2020 Fri
17
Display of Reserved Quota Merit List (Shangla, Gadoon, Hazara, Disabled, Chitral, DAE, Sports etc)
24-10-2020 Sat
18
Joint Admission Committee Meeting for FATA admission
25-10-2020 to 26-10-2020
19
Admission Interviews of 4th Non-Subsidized merit List
27-10-2020 Tue
20
Admission on Reserved Quota
28-10-2020 Wed
21
Commencement of Classes / Orientation
02-11-2020 Mon
Now we are making the table below UET Bannu engineering merit list for all other campuses. You have to click on any of the links below on your campus to download the list. Just be in tune with this page so that you can be aware of your status that either you are going to took admission or not.
Students UET Bannu engineering merit list 2023 first, second, and first will easily download through the same pakijobs.pk page. UET Bannu BSc engineering merit list waiting students will download the open merit list and self-finance merit list in PDF file format. Yes, this is very interesting for all UET Bannu Engineering merit list waiting for students, Usually, Pakijobs.pk is sharing one clickable link but this time pdf life format is available for all students.