You can download the UET Kohat merit list 2023 engineering 1st, 2nd, 3rd, 4th, and 5th for BSc engineering admissions. ETEA engineering test result has announced on Monday 28 September. Hundred and thousands of students have passed this test. Now, these students will apply to engineer colleges of KPK. If you have also qualified this test with at least 50% marks then you are eligible for BSc engineering admission in UET Kohat. So you must be aware of this important information, it is mandatory for the students to meet the UET Kohat BSc engineering merit list. If only you will meet these criteria you will be entertained with enrollment otherwise your application will be rejected to proceed for any further admission policy.
University of Engineering and Technology Kohat is a multi-purpose campus where candidates can continue their admissions. Here students not only study the engineering programs but they also learn research work and lots of creative ideas to build a strong career building. For further details, we are suggesting to you that you must be attached to this page so that you can take the latest updates based on the UET Kohat merit list for BSc engineering admissions.
UET Kohat Merit List 2023 Engineering 1st, 2nd, 3rd
The students of ETEA engineering test result card are encouraged to apply for BSc engineering admission in UET Kohat. For this intake eachone has to make sure either he or she is existing into the merit list. This page is updating you with the UET Kohat merit list 2023 engienering. You have to keep on reading this article so that you can obtain the further details.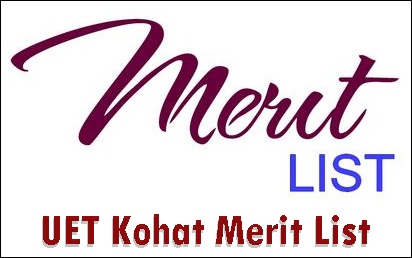 The Universit of Engineering and Technology UET Kohat will update the merit list for the ETEA engineering test held on Sunday 27 September. You have to stay with this page because as soon as the officials are preparing the merit list will be updated here as per the schedule. For taking enrollment to BSc programs you have to follow the schedule. In case of anyone who will fail into the test will not be entertained and will not be listed on the UET Kohat merit list for BSc engineering.
Important Date Schedule
1
Display of 1st Merit Lists (Open, Non-Sub, Reciprocal, FATA)
01-10-2020 Thu
2
Admission/interview 1st Open Merit
5-10-2020 to 7-10-2020
3
Display of 2nd Open Merit List
8-10-2020 Thu
4
Admission/Interviews 2nd Open Merit
9-10-2020 to 10-10-2020
5
Display of 3rd Open Merit List
11-10-2020 Su
6
Admission/Interviews 1st Non-subsidized
12-10-2020 to 13-10-2020
7
Admission/Interviews (3rd Open Merit)

Display of 2nd Non-Subsidized Merit

14-10-2020 Wed
8
Admission Interviews 2nd Non-Subsidized List
15-10-2020 to 17-10-2020
9
Display of 4th Open Merit
17-10-2020 Sat
10
Display of 3rd Non-Subsidized Merit
18-10-2020 Sun
11
Wards of UET Employees Admission Interview
18-10-2020 Sun
12
Admission Interviews 4th Open Merit List
19-10-2020 Mon
13
Display of 5th Open Merit
20-10-2020 Tue
14
Admission Interviews Stl Non-Subsidized List
20-10-2020 to 21-10-2020
15
Joint Admission Committee Meeting for RECIPROCAL admission
22-10-2020 Thu
16
Admission Interviews 5th Open Merit

Display of 4       Non-Subsidized List

23-10-2020 Fri
17
Display of Reserved Quota Merit List (Shangla, Gadoon, Hazara, Disabled, Chitral, DAE, Sports etc)
24-10-2020 Sat
18
Joint Admission Committee Meeting for FATA admission
25-10-2020 to 26-10-2020
19
Admission Interviews of 4th Non-Subsidized merit List
27-10-2020 Tue
20
Admission on Reserved Quota
28-10-2020 Wed
21
Commencement of Classes / Orientation
02-11-2020 Mon
Now we are taking you to the different campuses of the University of engineering and technology. If you want to check your name either existing on the list or not you can chase it here. By clicking on the link below you will explore the PDF lists where you will wait until the first, second, third, and fourth merit list. So never be late for taking updating with these credentials.
Hence we have told you all about the UET Kohat merit list 2023 engineering 1st, 2nd, 3rd, 4th, and 5th for the BSc engineering admission. You just need to leave comments below so that if you are having any query or question in your mind then never miss your chance to bring the latest updates all here. We are just bringing further details that will lead you with the latest and time to time update.